Posted on
Digicel customers benefit from free backpacks,school supplies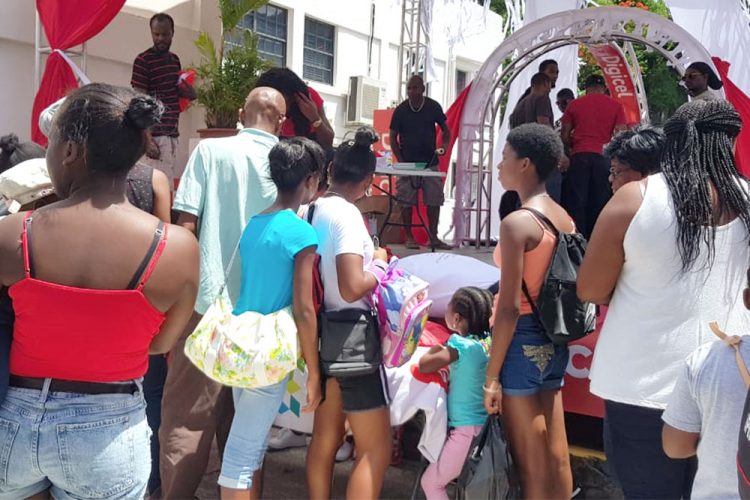 Over 200 Digicel backpacks containing notebooks, stationery and water bottles were on Friday, August 31 distributed to Digicel customers – just in time for back to school.
Friday's activity, which was held in the parking area adjacent to the Kingstown Postal Corporation saw every Digicel customer who paid their postpaid bill on the day and presented their receipt walking away with a Digicel back-to-school goodie bag. Also, every prepaid customer who activated a Quick Pick 7 day or higher on site instantly qualified for the back-to-school treat. And, children who visited the location enjoyed free popsicles, popcorn, cotton candy among other treats.
Parents and guardians who benefited from the giveaways expressed much thanks to Digicel for assisting with the some of the school essentials as they prepare their children for the start of the new school year.
Meanwhile, lucky customers Stephanie Williams, Tamesha Francis and Damon James were all smiles on Friday as they won big in Digicel's Scratch, Match & Win promotion. The customers were named winners after being drawn in the weekly draw for customers who filled out and submitted their "Try Again" cards.
The trio walked away with a case of Ju-C, school uniforms and a family size pack of American Fresh laundry detergent.
Additionally, Digicel customers were on Thursday, August 30 treated to free fruit smoothies – blended on the spot at The Cell in Kingstown. Customers who made any purchase or bill payment between 11am and 3:30 pm were served a fresh smoothie of their choice.
Digicel's Marketing Executive Jamisha Wright said Thursday's and Friday's activities are just a few of the exciting plans by the mobile and entertainment company to further engage and connect with its customers.