Posted on
VINLEC Scholarship recipients participate in youth forum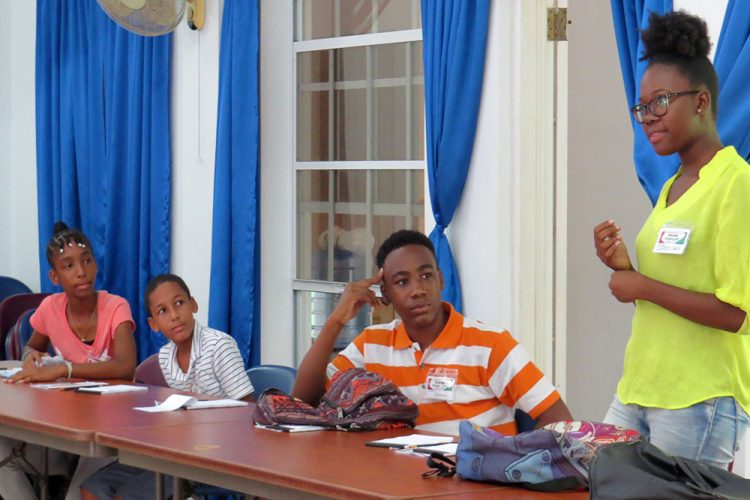 The St Vincent Electricity Services Ltd (VINLEC) hosted its first Youth Forum for the 26 scholarship recipients currently on the Education Award Program. The one-day event was held at the Anglican Pastoral Centre on Wednesday August 22.
In his opening remarks, Chief Executive Officer Thornley Myers encouraged participants to make the most of the day's session as it was an opportunity for them to be better informed of VINLEC's operations, to guide their career choices and to foster their own development and social interaction amongst their peers. He reiterated that as a company, VINLEC's interest is not only in their academic advancement but also in their spiritual, social and holistic development.
The day's event commenced with an icebreaker "Getting to Know You" segment. This was followed by simple but informative presentations on the calculation of the fuel surcharge; the generation, transmission and distribution of electricity; decision making; life skills; etiquette and career choices.
Acting Director of Adult and Continuing Education, Kathleen Jeffers, conducted the session on Career Guidance. She spoke on the importance of the career key which is an assessment tool used to match the working environment to personality types. She listed the 16 categories or clusters of careers. Participants were advised to thoroughly research the different career options and to carefully select subjects that are in line with the career they hope to pursue, which they are passionate about.
During the feedback segment, participants, Kiara Hazell and Chase Johnson agreed that the sessions on Decision Making and Life Skills were most memorable and that they intend to put into practice the knowledge gained. Those sessions had allowed the participants to give their opinions on likely solutions to challenging situations and the possible negative and positive consequences that can result from their choices.
The event was an initiative of the Human Resources and Administration Department and the Education Award Committee. Resource personnel were drawn from within the company and the Ministry of Education.