Posted on
FOSH Inc presents scholarship, bursaries to students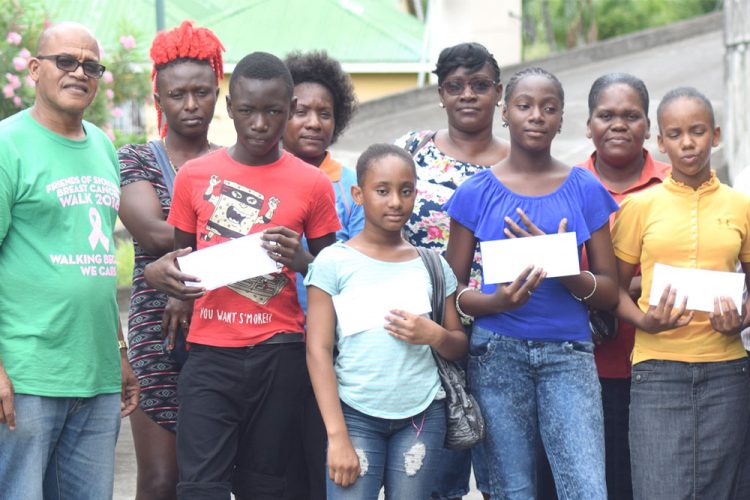 Friends Of Sion Hill Inc. (FOSH) has continued its service to the community of Sion Hill with the presentation of its 2018 scholarship and four bursaries.
Receiving the $800 scholarship award was 11-year-old Romarno Hector, while Isis Samuel, Kalia Mc Kie, Dove Medford and Gabrielle Gould were the recipients of the $200 bursaries.
The five are to be topped up with the provision of school supplies, which FOSH Inc. has also agreed to provide for the students' entry to their new educational institutions.
All students successfully sat the 2018 Caribbean Primary Exit Assessment (CPEA) and had applied for the annual scholarship which is FOSH's flagship undertaking.
However, it was Hector who best fit the criteria.
He has gained entry to the Thomas Saunders Secondary School for the new academic year, which officially commences September 5.
He joins the first scholarship recipients – Kiara Baptiste and Reanna Jackson, who were the two inaugural scholarship winners last year.
Clyde Fitzpatrick, president of FOSH SVG, at Friday's handing over, reiterated that the parent organisation FOSH USA, which conducts its affairs in Brooklyn, New York, is able to give back to the Sion Hill community and St Vincent and the Grenadines as a whole, from its many fund raising ventures.
Fitzpatrick noted that the assistance to the students would not only be in the form of financial help, but the organisation would be there to assist in other areas.
"We have systems in place to help you…. If you need help with your school work, we can help you or seek help for you," Fitzpatrick said.
According to FOSH Inc., "The scholarship is designed to assist students who are residents of Sion Hill and who were successful at the CPEA, and most significantly for students who parents may have difficulty in meeting their educational needs."
The scholarship is for a five year period, on the condition that the recipient does not repeat any of his/her forms and must adequately satisfy FOSH that he/she is performing well academically and has acceptable conduct.