Posted on
Attorneys argue if Burnett should recuse himself from Nice Radio case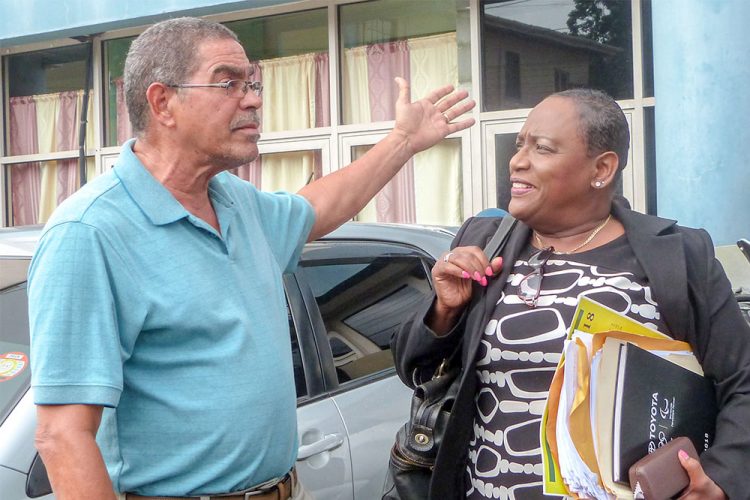 It was déjà vu last week in the ongoing trial against the owner of Nice radio, as attorneys on either side argued yet again for and against the presiding magistrate stepping down.
Attorney Kay Bacchus-Baptiste and counsel for the crown Karim Nelson made submissions last Wednesday on whether Senior Magistrate Rickie Burnett should recuse himself from the case before him.
The case now before the senior magistrate involves charges against Douglas 'Dougie' DeFreitas, proprietor of Nice radio and avid supporter of the Opposition party. The first charge was put to DeFreitas in June, 2016, rooted in his alleged use of comments on the radio station the day after the general elections in December, 2015. The charge now reads that DeFreitas published a false statement which was likely to cause alarm.
Among other statements, DeFreitas is alleged to have said, "I have just had confirmation that six of the ballots were unsealed and one missing. Six of the ballots were unsealed and one missing.
It means that something went on down there in the polling station and we are calling for by-elections by Monday. We want by-elections, we don't want…And I want the leadership to the NDP to find some transportation, get supporters to go down there and to get into place, please and persons who can go on their own, go down there and support Exeter on this matter."
Both lawyers have made written submissions, and all that was left was for the request to be ventilated in court.
Bacchus-Baptiste's submissions were based on comments that were reported as having been made by the (then) assistant Director of Public Prosecutions (DPP), Colin John. Particularly, the defence is focusing on John allegedly saying, in an interview with the media, that the defence was 'shopping around' for magistrates in their favour, and that such a magistrate was implied to mean Burnett.
"We must feel sure and confident that justice is being administered above all suspicions, and there's no way the DPP can say that what his statement was did not raise serious suspicions," the lawyer said.
She continued, "We are saying that we find ourselves in a unique position in this particular matter, because of the unsolicited, no fault of the defendant…and these comments were never retracted, never taken back, never explained, arrogant, just left like that, no attempt to even explain them, or retract them."
Nelson returned that legally the test to be considered is whether the 'fair minded and informed observer' would conclude that "there is a real possibility" that the judge is biased.
"The fair minded and informed observer must look at your honour's history, look at your cases on appeal. He would look at the fact that the judiciary is independent, and they would not be swayed by a comment allegedly made by a senior public servant," Nelson submitted.
He continued, "So is my friend suggesting that because a senior public servant makes a statement to the effect that the defence is…shopping, that the fair minded and informed observer would conclude that your honour is biased. We submit that that cannot be the case your honour, a political bandwagonist may, but not the fair and informed observer."
Bacchus-Baptiste rebutted these submissions by quoting from a case that Nelson had also apparently earlier quoted.
"She (the fair minded and informed observer) knows that judges, like anybody else have their weaknesses, and she will not shrink from the conclusion if it can be justified objectively, that things that have been said or done, or associations that have been formed may be difficult for them to judge a case whole or in part," she dictated.
Burnett reserved his decision, to be given on a date to be announced.
DeFreitas' attorney, speaking to journalists outside the court commented, "I am absolutely convinced that politics [is] playing a role in this matter, whichever way it goes, not that Rickie would be biased, but the pressure upon him, either to make sure he don't throw it out, it is a serious situation. I am really convinced that the pressure that is upon him whatever he does. No magistrate should be put in that position."
In response to whether any magistrate would be able to hear the case, Bacchus-Baptiste stated, "Not in St Vincent…all of them are in some way related or would feel the pressure in some way, and I think the case is a bogus case, just political anyway, and should be thrown out."
Burnett is the third magistrate to have the case before him, magistrates Bertie Pompey and Zoila Ellis-Browne preceding him. Pompey stepped down because he was involved in a civil matter with DeFreitas, and Ellis-Browne chose to recuse herself given her marriage to a former Government member of Parliament, Michael 'Mike' Browne.