Posted on
South Korea donates 30-seater school bus to SVG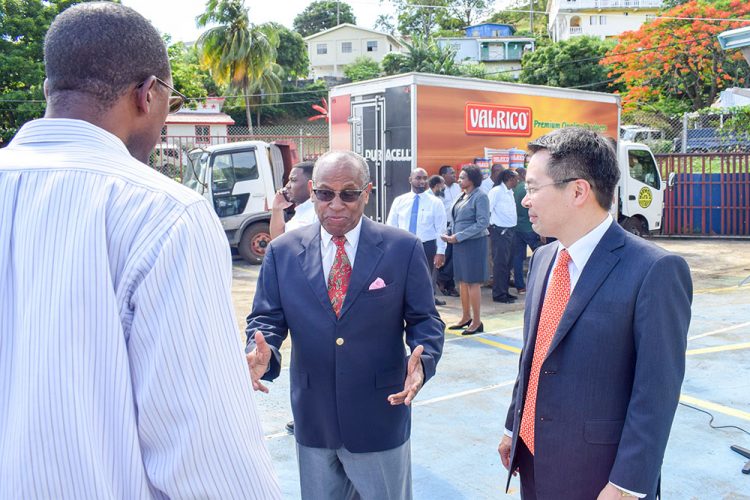 The ambassador of the Republic of Korea (South Korea) to St Vincent and the Grenadines earlier this week presented his letters of credence to the Governor General and handed over a 30-seater school bus to the Government.
Ambassador Sung Moonup, who is resident in Trinidad and Tobago presented his credentials to Sir Frederick Ballantyne at Government House on Tuesday, August 21. The ambassador also met with Prime Minister Dr Ralph E Gonsalves; Deputy Prime Minister and Minister of Foreign Affairs Sir Louis Straker and the Leader of the Opposition Dr Godwin Friday.
During Ambassador Moonup's meeting with Minister Straker, both countries reaffirmed their commitment to providing mutual support in enhancing the relationship on various bilateral & multilateral issues. The highlights of those issues included health care, education, infrastructural development, people-to-people exchanges, peace and security, sustainable development and climate change.
On Tuesday afternoon, the Ambassador handed over the keys for a new school bus Minister Straker who then entrusted the keys to the care of the Ministry of Transport and Works represented by the Permanent Secretary Vibert Nedd.
The bus is a 2019 Toyota Coaster 30-seater valued at US$88,000.00 (EC$240,000.00). It is the latest generation of its kind to land in St. Vincent and the Grenadines and has capabilities including Anti-lock Braking System (ABS) and Vehicle Stability Control (VSC). The bus is diesel efficient, built specifically for the terrain and the adaptive corner roads of SVG.
Minister Straker charged Nedd to ensure that the bus is beneficial to Vincentian students and to do all that is possible to take care of its optimal use and longevity.
The Minister thanked Ambassador Moonup for the contribution of a school bus to further assist in the provision of transport services to students who are hindered by lack of transport which impedes their accessibility in attending school. He further conveyed his gratitude to the Government of South Korea on behalf of the Government of St Vincent and the Grenadines for South Korea's generous donation and for their contributions support despite the ongoing security issues with North Korea.