Posted on
Digicel gives young men an experience of a lifetime at Spice Mas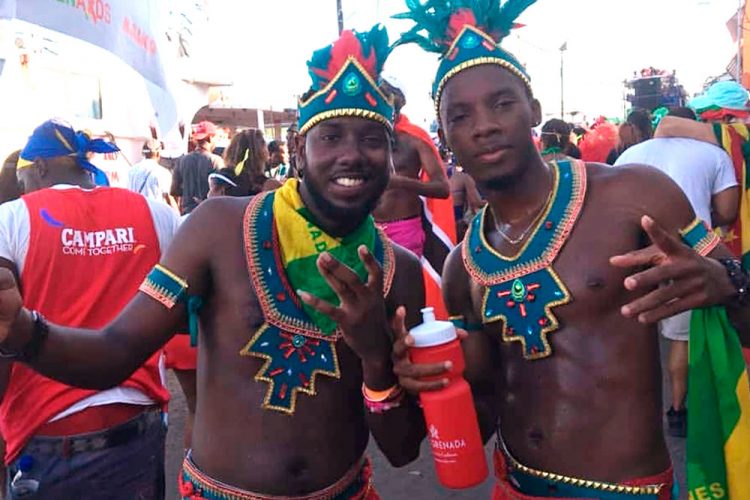 Spice Mas in Grenada was nothing short of an experience of a lifetime according to lucky Digicel customers Imran Nanton and Odion Hillocks.
The duo were named winners of Digicel's Carnival promotion dubbed "Bettafeta" and were rewarded with a trip for two and a VVIP experience at Spice Mas.
The five day trip saw the winners departing St Vincent and the Grenadines on Friday, August 10 and returning on Wednesday, August 15. While in Grenada the lucky Vincentians were hosted at the luxurious Spice Island Resort and attended the most anticipated events on Grenada's Carnival calendar including: Soca Monarch, Extreme White Fete, Panorama, Jouvert, Monday Night Mas and Pretty Mas on Tuesday among other activities.
New Montrose resident Imran Nanton who was experiencing Grenada for the first time thanked Digicel stating that the experience surpassed his expectations and anything he could have imagined. Nanton said, "I want to thank Digicel for fulfilling one of my many dreams, one I still cannot believe actually came through." Nanton, who has been a Digicel customer for more than 10 years, said it was his second time winning a Digicel promotion, stating that the first time he won was back in 2016, which saw him winning a Carnival Monday T-shirt package from Digicel Temperature.
The young computer technician further explained that he continues to find it more and more rewarding to be a Digicel customer. "I not only get great value for my money, but Digicel continues to introduce relevant and rewarding products such as unlimited data nights and unlimited social. Winning the trip to Spice Mas only cost me $1, when I activated an unlimited social bolt-on. It pays to be a Digicel customer."
The two winners were accompanied to Grenada by Digicel's Marketing Executive Jamisha Wright who congratulated both winners for truly maximising and making the best of the experience. Wright further encouraged the winners to continue supporting and participating in Digicel's promotions. She said, "There is much in store for Digicel customers throughout the rest of August and in the coming months as Digicel is allowing both its prepaid and postpaid customers to walk away with thousands in cash and prizes". She explained that hundreds of families and households across SVG will this month benefit from free back to school supplies, free phones, cash, Digicel products and more, valuing up to $20,000.