Posted on
CIBC FirstCaribbean helps children tumble into success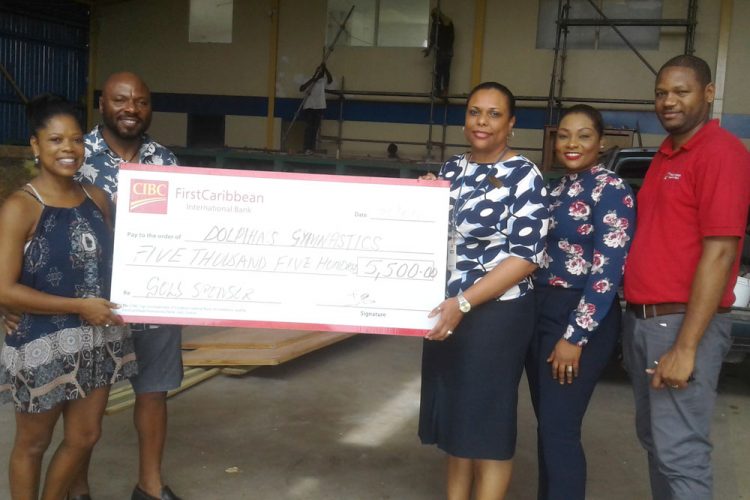 Owner and director of Dolphin Gymnastics and Health Academy, LaPrise Harris-Williams has created a place where children have the chance to tackle new challenges as they tumble and flip into newfound confidence, determination and a desire to continue improving through the sport of gymnastics.
"Gymnastics is a great basis for all youth sports – boys and girls included. It helps children improve balance, strength and coordination and empowers them into greater confidence," Harris-Williams explained.
Her comments came as she accepted a sponsorship cheque from Country Head of CIBC FirstCaribbean Shelley-Anne Samuel recently.
"As the first and only gymnastics program in St Vincent and the Grenadines, Dolphin Gymnastics and Health Academy, offers everything that a large gym might provide, but we need help, so our children can continue to excel and that is why we are exceptionally thankful to CIBC First Caribbean Bank for its support. The funding the bank provided will surely help us to improve our equipment, and most importantly, help us towards moving into a larger and better suited facility," Harris-Williams said.
She added that since the academy stated in 2015 some of her young gymnasts have represented St. Vincent taking part in competitions in Trinidad and Tobago, Florida, and Texas where the team placed third overall. They also competed in Barbados where they placed second overall in the Caribbean Championships.
"My concept, and parents can expect a continued personalized experience as their children have fun and learn new techniques and skills in a safe and nurturing environment and they can anticipate that their child will work with a caring and consistent teacher who not only has a love of the sport, but also a love of working with children with a commitment to health and well-being for outstanding results. Since opening our doors in October 2015, the kids have since represented the island, competing in as well as competed in Barbados "As the interest from the community continues to be very encouraging we expect to grow and expand – that is why this sponsorship from CIBC First Caribbean Bank will help us towards our goal," added the former Master of Sport (a title reserved for World Championship and/or Olympic coaches) and former head of Acrobatics and Tumbling coach at Baylor University, Texas.
Shelly Anne Samuel said the bank was happy to support the involvement of youth in sports. "CIBC FirstCaribbean understands the amount of dedication, commitment and focus that it takes for our young athletes to accomplish their goals and, through the guidance of LaPrise Harris-Williams, whose credentials are outstanding, we are thrilled to help enable the children of this island to reach their fullest potential as accomplished athletes."