Posted on
Yanagil Education and Development Fund hands over laptop to student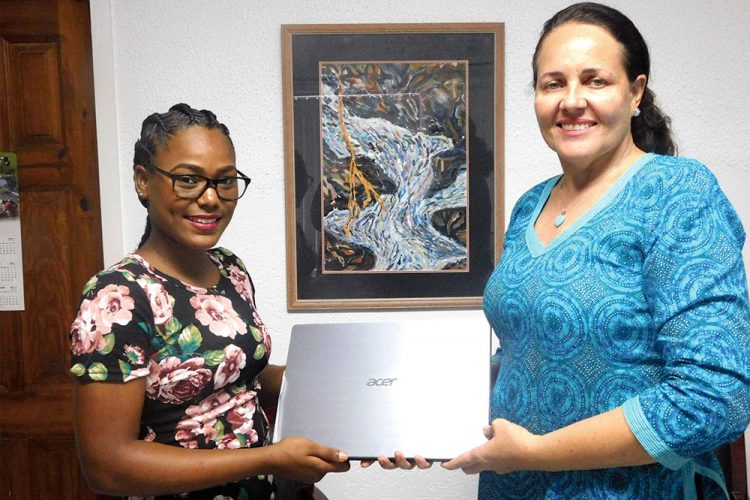 The Yanagil Education and Development Fund presented its first university scholarship recipient with a laptop for her studies, earlier this week.
Louise Mitchell, a director of the fund handed over an Acer laptop to Moisha Aleisha Vincent on Wednesday morning.
The fund was founded last year by Vincentians, Gilbert Weekes and Iyana Bramble-Weekes, who reside in Canada. The two created the fund as a way of giving back to their country in a sustainable manner.
"I cannot give enough thanks to Mr Gilbert and Iyana Weekes," the Belair resident said. "It has really been on my to-do list for a while now so this opportunity is really great for me and I thank them so much for it."
Vincent, who pursued an Associates' Degree in Information Technology at the St Vincent and the Grenadines Community College, was among several candidates interviewed by Gilbert Weekes for a scholarship to pursue a tertiary level education.
And she says that they are currently in conversation as it relates to the university she will attend.
The 20-year-old also said she plans on completing courses online in Marketing and Leadership in Management with ICS Learning so the laptop will be useful in helping her to complete these courses.
"It is also the aim of the fund to offer a university scholarship at least once every three to four years," Mitchell told SEARCHLIGHT.
She said that the founders intend to donate to the fund every year but that it is the hope that other Vincentians, particularly those residing in the Diaspora "would start giving in a regular and systematic way."
"Essentially, the fund has been set up to help mainly in the area of education but it also assists in different areas as well. For example, preservation of the environment, heritage, culture and also assisting some of the victims of violence are some of the areas that the fund would be assisting in the future," the director said.
Already, the fund has donated to the St Vincent and the Grenadines National Trust to fund an exhibition on breadfruit at the Curator's House later this year.
Mitchell said that the exhibition will focus on the historic origins of the breadfruit and its role in society today.