Posted on
Public Servants are working under deplorable conditions! – Union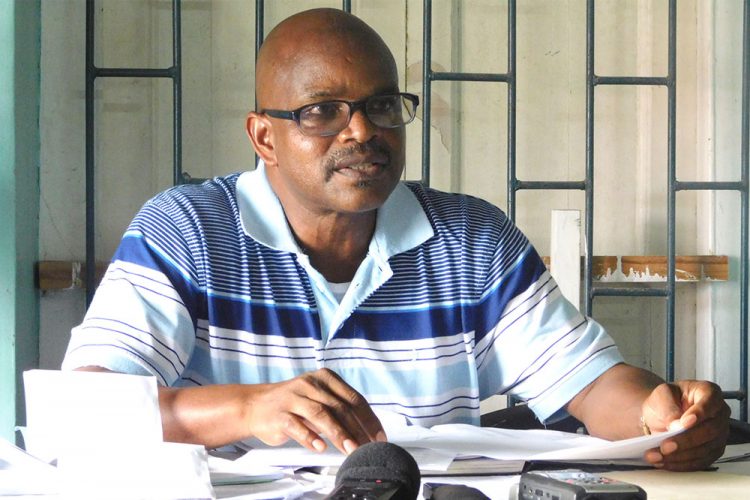 President of the Public Service Union (PSU) Elroy Boucher is lamenting what he says are deplorable conditions that public servants are being made to work in.
Boucher, while speaking at a press conference last Tuesday, said that the Occupational Safety and Health (OSH) Act was passed in November 2017.
Quoting from the column of the ruling Unity Labour Party (ULP) in the Vincentian Newspaper, the president said the Act was hailed as a success and as "another indication of the care and love demonstrated for the workers of the country." However, Boucher said that the Act was only a success in theory.
And he added that workers in the Ministry of National Mobilisation on Halifax Street in Kingstown have to work deplorable conditions.
"That building is sandwiched between two other buildings and it's about three floors," he said. "The building has little or no ventilation.
The air condition system doesn't work. If you are at the top of that building for more than an hour, on a typical sunny day, you'll be drenched in sweat."
Boucher also said there is a printing press located on the ground floor of the building and that the fumes makes the situation worse whenever it is in use.
The president said the health risks posed to workers are unknown as issues usually develop over time.
"There has been talk of relocating the workers, but that has been going on for over two years now and nothing is being done.
So, the passage of Occupational Safety and Health Act has really done nothing to improve the conditions of those particular workers in the ministry of National Mobilization," he said.
According to Boucher, workers at the Bureau of Standards office in Campden Park, the clinic in Paget Farm, Bequia and the Revenue Office in Canouan also face similar conditions.
At the Bureau of Standards office, Boucher said that the roof is leaking and that there was evidence of mold.
He added that there is only one bathroom for both male and female use despite the fact that the Act states that there must be separate bathroom facilities for males and females.
The president also cited structural issues among other things at the clinic in Paget Farm and Revenue Office in Canouan.
"Any threat to a person's life, health that comes from the environment in which they work, those must be addressed," he said.
"And at these buildings, there is a possible threat or harm to their health."
The PSU president said that although he understands that the Act is in its implementation phase, there are certain requirements for workers that must be adhered to.
And he made a call to the relevant authorities to address the matters he has highlighted.