Posted on
Sion Hill Euphonium responds to demands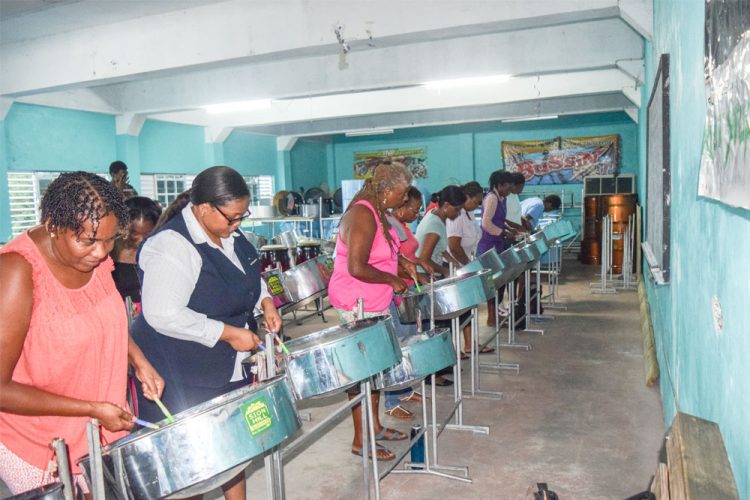 The executive of the Sion Hill Euphonium Steel Orchestra has answered the bellowing call, and has commissioned a training programme for adults who are interested in learning about the steel pan.
Beginning last Monday at the orchestra's base in Sion Hill Village, close to 20 adults enrolled in the training programme.
The consensus among the trainees is the need to learn the instrument.
But, as the saying goes, "the children should lead the way."
This is so in the case of Cedel Webb–Allen, who said that she was inspired to restart playing the steel pan, after being re-invigorated by her daughter, who is a member of the Sion Hill Euphonium junior and senior sides, as well as the Girls' High School Steel Orchestra.
A confident Webb-Allen said that after the training programme, she will be competent enough to represent the band in the 2019 senior panorama competition, alongside her daughter.
Meanwhile, Shaquille Lewis, another of the trainees, said that while growing up, he never liked the instrument. However, overtime he has grown to love the steel pan, hence his interest in learning about the instrument at this stage.
Under the tutelage of Septimus Caine, the adult trainees, thus far, have been instructed in the basics of the steel pan, with most of them gravitating to the tenor pan.
Caine expressed satisfaction so far with the few days of the training, stating that the adults' enthusiasm and willingness to learn have been the hallmark of his charges.
Buoyed by the response to the adult training programme, Chair of the Sion Hill Euphonium Warren Knights said it augurs well for the image of the organisation.
"It shows that persons young and old want to be associated with the Sion Hill Euphonium… It is a case of good association," Knights reflected.
Knights also holds the view that with the Sion Hill Euphonium being one of the top steel bands in St Vincent and the Grenadines, it adds to the gravitation.
He linked the winning of this year's senior panorama title, as helping to attract persons wanting to be part of the band.
Knights is hopeful that the adult training would, like the junior training programme which has been continuous since 1995, become an annual affair.
The Sion Hill Euphonium Steel Orchestra was formally established in 1981.