Posted on
Local entrepreneur pens inspiring autobiography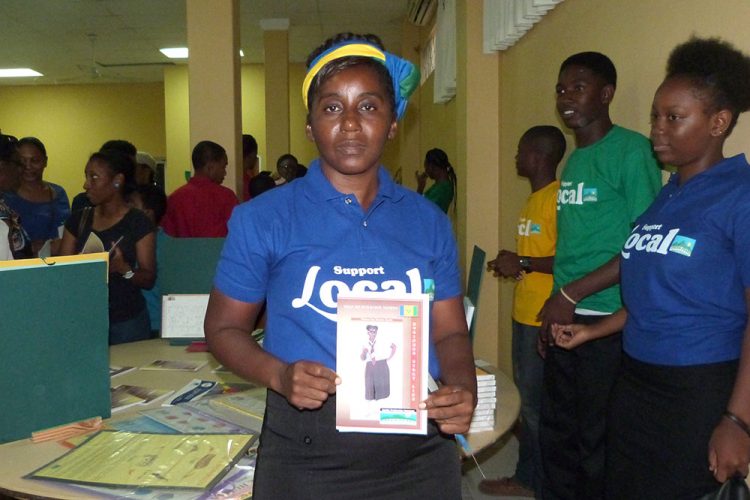 The cover of a local entrepreneur's newly launched book shows her in her Bethel High School uniform, as the story inside traces her life from teenage pregnancy to business owner.
Haslon-Ann Jacobs, is the founder and owner of Jacobs Production Company, which houses the stationery brand Green Peaks Books and Publishing, and she is the mother of two children, among other titles.
As the founder of a local business, Jacobs decided to pen a book, entitled "Help Me Build our Nation", under the theme 'Support Local', which was launched at the Methodist Church Hall in Kingstown last Saturday.
"Over the years I have worked towards building a company that supports the education of the nation's youth. As Vincentians, we often hear to support local, but we do not know who these local business owners are. This is why I have taken the initiative to launch our business storyline," Jacobs explained, while speaking to a very supportive gathering.
"I have had an experience, where I dropped out of school prematurely and became a teenage mom. Read this book and be motivated and inspired by how a teenage mother turned her disappointments into a successful story," she advised.
Among a series of video presentations, was the biography of Jacobs, which informed that she had become pregnant at 16 years, "which prematurely ended her Secondary Education in form three."
Further it was revealed, "This situation left her feeling depressed and excluded, especially when all her friends graduated from form five."
"The challenges were many, and it was a struggle for Haslon-Ann to rise above the negativity associated with teenage pregnancy, and being married at that age, especially in her community," it continued, as it was explained that Jacobs also married at 16.
However, after securing a job at the Government Printery, through the Youth Employment Services programme, she learnt many skills. Alongside this, she apparently developed a passion for books, which inspired her to branch out and start her own business. The Jacobs Production Company moved through the harsh beginning phase and into stability with the help of her family. Today it sells customized exercise books, notebooks, sketchbooks and more, via an outlet on Grenville Street, Kingstown.
"I know what it means to encounter difficulties, and also what it means to triumph over these difficulties, since each one is an opportunity to learn," Jacobs stated.
"I would like to leave two very important thoughts with you. First, local business owners are able to produce products which are the same high standard as foreign businesses, and secondly, the local business owner is not the only beneficiary when you support local, but the nation benefits as well. Help me build our nation," she ended.