Posted on
Coreas Hazells Inc donates $2,000 to youth football club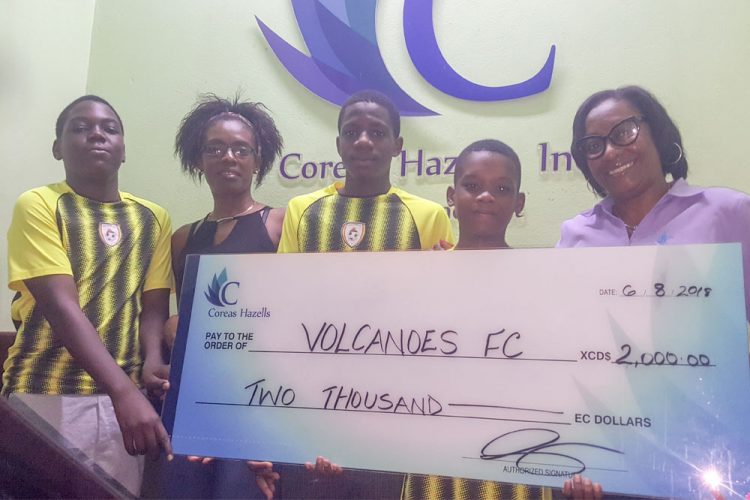 Volcanoes FC, a local youth football club, has thanked Coreas Hazells Incorporated for helping them be a part of the Caribbean Children's Charity Shield Soccer Classic in St Lucia.
Fifty-seven players, eight parents and coaching staff will leave St Vincent this weekend to take part in the tournament which runs from August 11 to 20. Coreas contributed EC$2,000 to the group, which will be used for accommodation.
Secretary of Volcanoes FC Sharon Browne said that they were invited to take part in the tournament and turned to Coreas for some assistance.
"The tournament is for children from 11 to 17 years old, and we have three teams – Under-13, Under-15 and Under-17. We are elated about the contribution from Coreas and we are happy to have the money towards our accommodation," said Browne, noting that the players are from Rose Place, Largo Height, Montrose and Kingstown Park.
Juno DeRoche of Coreas handed over the cheque to Browne last Monday at Coreas' base on Bay Street. Three Volcanoes FC players were also present, in the persons of Romoul Rouse, Augustus Adams and Delano Benjamin.
"I feel excited and confident that we will go to St. Lucia and represent the country well. I would like to say thanks to Coreas and we appreciate it a lot," said Benjamin.
DeRoche, in commenting, said that Coreas believes in the development of the youth.
"We decided to help them with the accommodation because we thought that it was important that the children were kept in a safe environment while they are away from home, so that is why we took on the initiative to assist with the accommodation," said DeRoche.
She added that Coreas encourages the players to continue to build their skills where football is concerned, as it will help them to develop academically as sports and education go hand in hand.
"Continue to love the sport and build good comradery with your colleagues. Play fair and use the opportunity to expand your horizons in terms of meeting players from other countries and building bonds, because we may be a different country, but we are one nation in the Caribbean, so we just want to encourage you and wish you the best," DeRoche told the players.