Posted on
Body found in yard at Diamonds with multiple chop wounds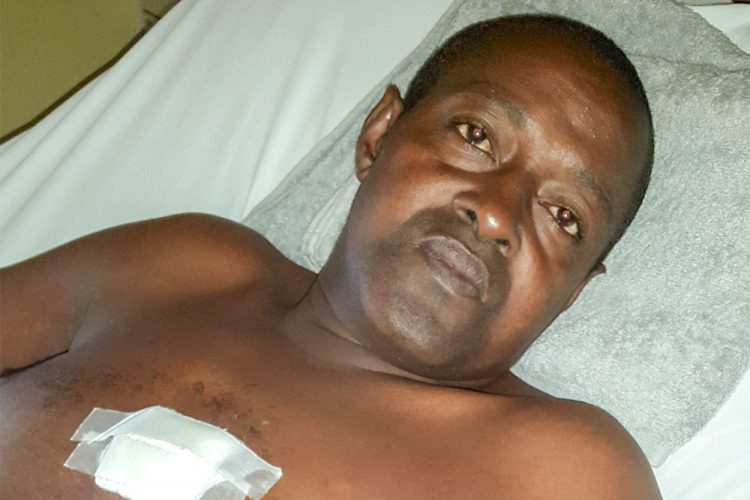 A man who was shot by police on Wednesday, June 10, 2015 and lived to tell the tale wasn't so lucky when a different weapon was used on him sometime between Sunday night and Monday morning.
The body of William James Bushay, also known as James Adolphus Gould, was discovered yesterday, Monday, August 6, around 6.20 a.m. in the yard of Diamonds resident, Sheldon Govia.
Govia told SEARCHLIGHT that he opened his kitchen door and saw Bushay's body next to a fireside in his yard and immediately called the police.
He said that upon investigation, he discovered a lot of blood on the piece of land above his home, a few feet away from where Bushay's body was found.
It is speculated that Bushay was chopped about his body and tried to escape through Govia's land, but succumbed to his injuries.
"…my wife was traumatized when she heard a body was in the yard," Govia commented on Monday, adding that he did not hear or see anything the night before.
He said that he knew Bushay from seeing him around the village, but they were not friends.
Bushay, 53, lived alone in Diamonds. A resident said he has two children with a woman from the area, but the two were not in a relationship. Another resident confirmed this and added that the relationship between Bushay and his children's mother ended badly, and they were not on good terms.
Bushay's left hand was almost severed during the attack, and was attached only by a piece of skin. His left kneecap was also attached only by a piece of skin, and he also received chops to the face, among other places.
Unconfirmed reports are that suspects were detained, but up to press time no one was charged. Police are investigating.
Bushay, a father of six, is the 18th person to die violently here this year, and the second person killed in two days.
Back in 2015, Bushay, an electrician, told SEARCHLIGHT that he went into some bushes to defecate and was shot by police. He explained that he was going to a job site in Queen's Drive when he was shot. The bullet entered his right side and lodged in his chest close to his heart.