Posted on
New Montrose resident wins trip to Spice Mas Grenada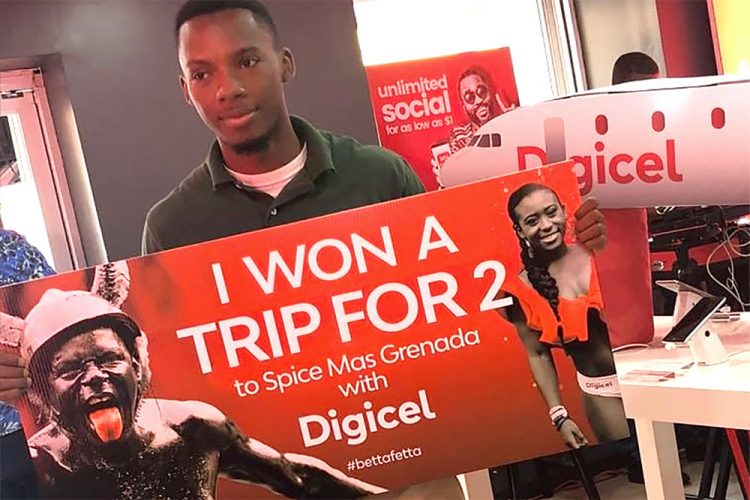 Imran Nanton is on his way to having a fabulous time at Spice Mas, Grenada, having won the grand prize in Digicel's #BettaFetta, 2018 Carnival promotion.
A Digicel customer for some 15 years, Nanton, of New Montrose, broke out in a dance after learning he was the winner from among five other finalists. He thanked Digicel for always keeping its customers top of mind when designing promotions, adding that he was most grateful for the opportunity to not only experience Spice Mas, but to do so VIP style. Nanton said he understands how important winning was to all who participated, and had taken the decision to take along with him another of the competition's finalist – Odion Hillocks, to share the experience.
The promotion, which ended on Friday, July 27, required Digicel customers to activate any social bolt-on and post a picture to Instagram or Facebook and tag DigicelSVG using the hashtag #bettafeta for a chance to win a VVIP experience for two at Spice Mas.
Jamisha Wright, Digicel's Marketing Executive, while speaking at Friday's draw, congratulated all the finalists and promised Nanton and Hillocks the ultimate Spice Mas experience during the period August 10 -15.
Wright also urged other Digicel customers to continue topping up, activating their Quick Pick bundles, unlimited data nights, social bolt-ons and paying their postpaid bills for their chance to be among thousands of winners this summer in Digicel's Scratch, Match and Win Promotion.