Posted on
Local organizations give back to the needy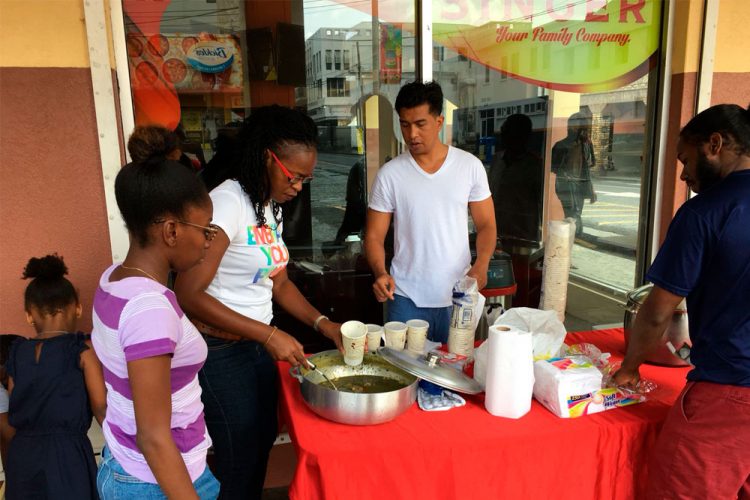 While many saw Wednesday's public holiday as time to rest, go to the beach or spend time with friends, members of two local organizations saw it as an opportunity to give back to the less fortunate.
Members of From Heels to Meals and SVG Young Professionals came together on Emancipation Day outside the Singer Building in Kingstown, to feed the homeless in St Vincent.
"On public holidays there is no one to feed the homeless, no one for them to ask for assistance, as most persons are away from Kingstown so the organizations jumped at the opportunity to fill that void that would have existed," a release said.
Kimisha Horne, the founder of From Heels to Meals, said that it's not easy for young professionals to give up a portion of their holiday, especially since it's a time for much needed rest.
As such, she expressed gratitude to the team who came and chose to do good by providing the service to the homeless.
"This activity is the first of a few others to be done during the month of August and September, which would see a Backto-School donation being done, seminars for growth and development and also another feeding the homeless initiative," the release said.
Both organizations expressed gratitude to Allan Alexander and the staff of The Cell, Ted Roberts and Mauryka Thomas from CK Greaves and Kishore Shallow, founder of the SVG Young Professionals Association, for their generous donations.
The organizations also expressed thanks to the team of volunteers, which included Sharii Roberts, Alison De Shong, DeShawn Roberts, Lamarche Dowers, Odion Marc Hillocks, Esther Horne, Onika Fergus, Kenville Smart, Jon Jon Reyes, Ma'klei Shallow and Maurice Horne Jr.
The SVG Young Professionals Association was started in 2014, with the aim of giving young professionals a platform for growth and development through training sessions and seminars.
From Heels to Meals is a charitable organization that provides female professionals with an avenue to give back to society and assist in combating social ills.