Posted on
Players nab Section of the Bands title with 'I'm a Monster'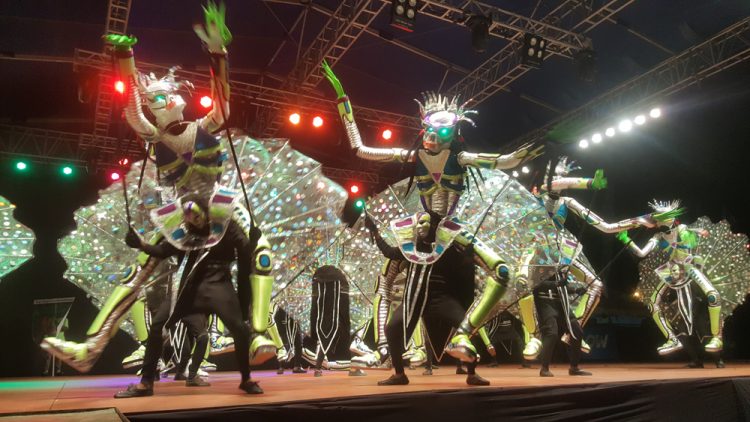 A portrayal of Gamal 'Skinny Fabulous' Doyle's 'I'm a Monster' took the top spot in the Vincy Mas 2018 Section of the Bands competition.
'I'm a Monster' was part of SVG Players International Mas Band 2018 presentation – 'Legends of the Soca Monarch – The Best of the Best'.
Players managed to retain the Sections of the Band crown during the Steel and Glitter show, held on Thursday, July 5 at Carnival City Victoria Park.
Giving Players stiff competition was BMC Amerijet Magic 103.7 FM Blondie Bird & Friends who came in second with 'Nyctophobia – Fear of Darkness' from their 2018 presentation 'Phobia'.
Third place went to the Imagination Mas Band for their presentation called 'In Time to come Man will live in Space' from their 2018 presentation of 'In Time to Come'.
'Young Vikings – A Tribute to Edmond Paddy Corea' from Melbourne Artisans' – 'Dedicated to Memories' was fourth.
The other bands and their presentations were Beautex International with 'Rum and Lime' from their presentation 'A Toast to Vincy Mas'; Leeward International Mas Band with 'A Star to Steer By' from their presentation 'Ship Ahoy – Tribute to Sheggie John'; Tribes Mas Band with 'Moon & Stars' from their presentation 'Sunrise to Sunset and Beyond'; Metrocint General Insurance High Voltage Mas Production with 'Grey Bay' from their presentation 'Exotic Beaches'; Xtreme Fanatics SVG with 'Happiness' from their presentation 'Moving Up'; X-treme FM 104.3 G&T Enterprise Lynx Mas Band with '2013 Trough System' from the presentation 'Devastating Elements'; Owen Ralph & the Professionals with 'Moon Run 'til Day Ketch Um' from 'Things People Say'.
The sections were judged on visual impact (15 points), creativity / authenticity (20 points), relation of section to theme (15 points), craftsmanship (20 points), balance of colour (20 points) and presentation (10 points) for a total of 100 points.