Posted on
Headmaster of SVGS to retire after 18 years of service at the school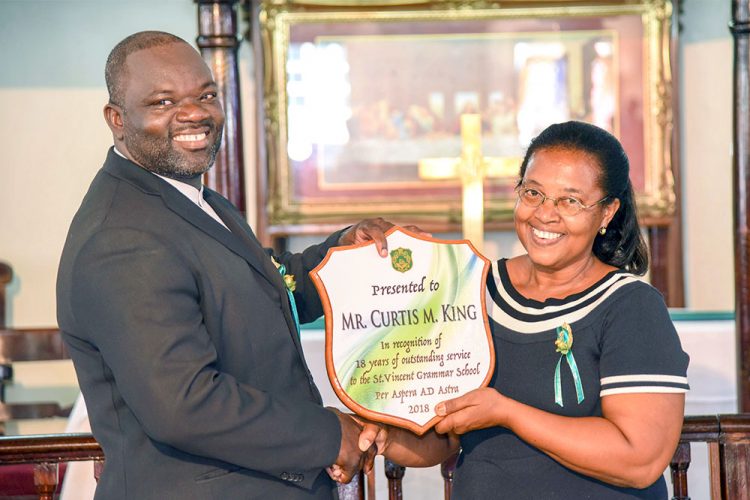 After five years at the head of the St Vincent Grammar School (SVGS), Curtis King will leave his post as headmaster at the end of the school term.
King announced that he will be going on pre-retirement leave during the headmaster's report at this year's graduation ceremony. He had been a member of staff at the all boys school for 18 years.
"My love affair with this school started in 1976 when I entered as a student. Today, 42 years after, I am still faithful to this school. But alas, my time has come," he said. "I leave feeling satisfied and contented that the support from the various stakeholders of this wonderful institution and my family has enabled me to make a valuable contribution to this great institution, my Alma Mater."
The headmaster also congratulated the graduating class of 2018 and challenged them to be outstanding in whatever they do.
"We have taught you how to unleash that potential in your quest for self fulfilment. It is now up to you to demonstrate how much you have grown over the past five or six years," King said. "As you tackle this new challenge, I ask that you continue to embrace the core values of this great institution, those of discipline, dedication, the pursuit of excellence, integrity, respect and responsibility."
Delaan Nedd, while delivering the valedictory address, thanked the headmaster for his support over the years.
Nedd highlighted that the 2018 graduation class can boast that they had no one else but King as their headmaster during their tenure at the prestigious institution.
"We will always remember your strict but loving demeanor, your faith and belief in our abilities and your unwavering bias towards Miller House. As you say your last "finally" as our headmaster today, I hope that you finally get some well-deserved rest," Nedd said.
The St Vincent Grammar School graduation ceremony was held on June 27 at the Kingstown Methodist Church.