Posted on
SVG pays tribute to Comandante Chávez five years after his death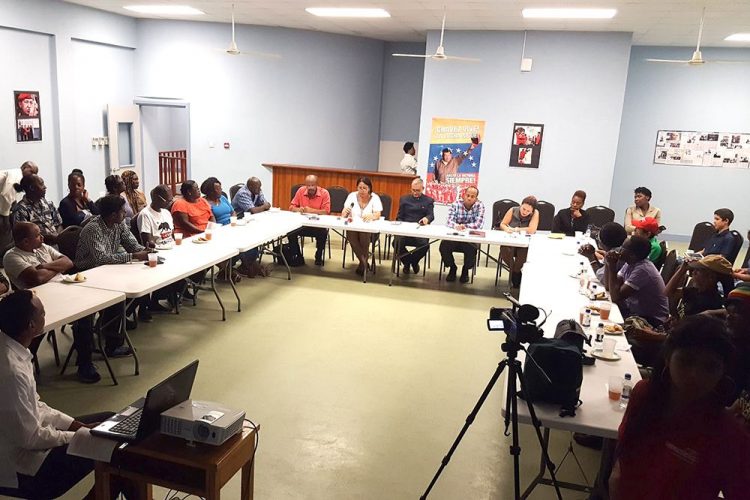 The Embassy of the Bolivarian Republic of Venezuela in St Vincent and the Grenadines (SVG) commemorated five years of the physical departure of Commander Hugo Chávez with the discussion "Chávez, a necessary tribute – The emancipatory thinking of Commander Chávez on Latin America and the Caribbean," which took place at the Calliaqua Town Hall.
In this discussion, Michael Browne, president of the Venezuelan-Vincentian Friendship Association, HE Vilma Reyes Valdespino, Ambassador of the Republic of Cuba; Robert Luke Browne, Minister of Health, Wellness and the Environment; Andreina Bermúdez Di Lorenzo, academic coordinator of the Venezuelan Institute for Culture and Cooperation and the head of the Venezuelan Diplomatic Mission Francisco Pérez, along with the Vincentian community.
In a letter written by the head of the Mission as a tribute to the Venezuelan leader, he said, "Commander, you were the one of the great integrationist initiatives. You created and promoted the ALBA, Telesur; Petrocaribe, the Bank of the South; UNASUR, the South American Defense Council, CELAC. These organisms and their infinite solidarity would be suffice to place you in the history of the immortal dreamers of the Great Homeland who lived and died in the battles for freedom, independence, sovereignty, unity and progress of our peoples."
The activity included the viewing of a video, in which the people of SVG paid homage to the Eternal Commander, remembering his experiences, stories and interaction of Hugo Chávez with the peoples of the world. "Chávez is hope" said Lance Peters, a Vincentian student.
"You did not mar in the sea my eternal commander, today thanks to the new approaches that Latin American and Caribbean integration brings as part of a new international geopolitics driven by you, the sustained hegemony in the field of international relations, is being dismantled, it is transformed and will continue on that path until our peoples achieve their full independence and position in the global geopolitical structure," emphasized Pérez Santana, quoting Pasqualino Angiolillo.