Posted on
Make fishing a wealth generating activity – consultant Huggins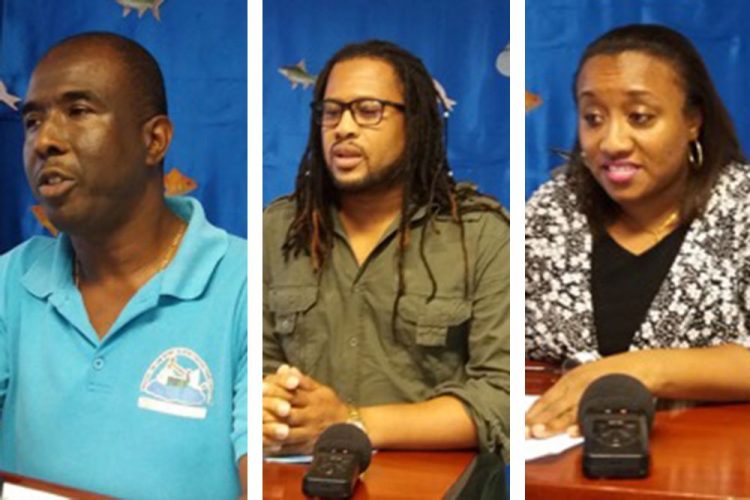 The Fisheries Division in the Ministry of Agriculture, supported by the Food and Agricultural Organization of the United Nations, hosted a "Fishing as a Business Workshop" on Wednesday, February 28, at the Fisheries conference room in Kingstown.
The workshop was implemented under the National Zero Hunger Challenge Initiative (ZHCI) Action Plan of SVG, which seeks to support selected activities under the project. Some 29 participants were present at the workshop, which began at 4 p.m. and went up until 7:30 p.m.
Addressing the opening ceremony, Conroy Huggins, the national consultant: project operations assistant, challenged the fishers, boat owners and vendors to take full advantage of the training. He asked them to see what they do as a meaningful investment and said that their mindset and attitude has to change to maximize their earning potential. They need to see fishing as a wealth generating activity.
Lorenzo George, fisheries officer (extension) at the Fisheries Division, made remarks on behalf of the division. He expressed thanks to FAO and the Ministry of Agriculture for such a timely initiative and encouraged the fishers, boat owners and vendors to make full use of the training. He also informed stakeholders of the work of the Fisheries Division and upcoming projects that will benefit them.
Hayden Billingy, national project coordinator for Climate Change for Fish (CC4Fish) project, gave an overview of the CC4Fish project, which he stated will come on stream soon. He said the CC4Fish project, which is a regional project of which SVG is a beneficiary, will take the business training of the fishers even further. He said factors such as the impact of the Sargassum (sea weed), safety at sea, agroponics, aquaponics, diversifying the fisher's economy and training in survival skills at sea would be addressed. The project, he stated, has a multi-faceted approach.
The FAO national correspondent in SVG, Dr Coleen Phillips, highlighted the challenges faced by fisherfolk and farmers which need urgent attention, including praedial larceny, projection via the use of risk insurance, and protection of water resources. She informed the fishers that apart from the Zero Hunger Challenge Initiative Project, they will also benefit through the CC4Fish, which is a regional project.
The workshop facilitator Dougal James of Prime Consulting gave the rationale for the training, the aim of the workshop, the proposed training outcomes, and the objectives of the training. He shared recent data on studies of the fishing industry in SVG and gave reasons for the dismal performance.
He presented a way forward for the fishing industry, the components needed to set up a business, record keeping, understanding a business cycle and how the business works. He also shared with them how to practise good cash management.