Posted on
Dominica State College takes WIDC for second year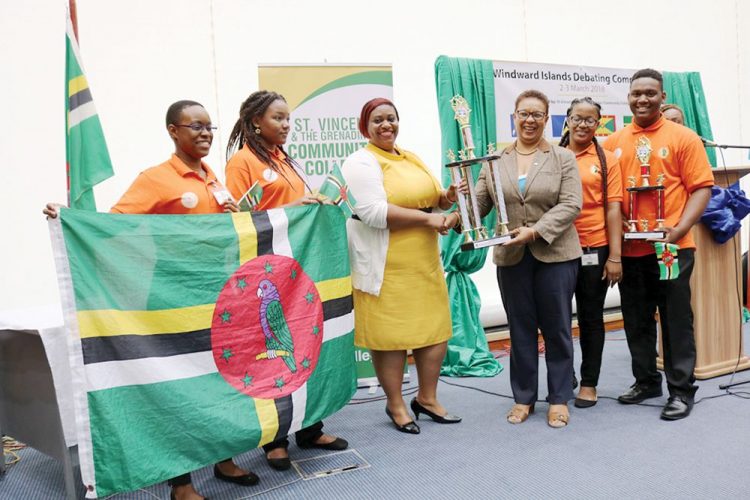 The second Windward Islands Debating Competition (WIDC) was held last weekend, under the patronage of His Excellency the Governor General, Sir Frederick Ballantyne.
The competition saw the four Community and State Colleges in the Windward Islands, Sir Arthur Lewis Community College (SALCC) from St Lucia, Dominica State College (DSC), TA Marryshow Community College (TAMCC) from Grenada, and our very own St Vincent and the Grenadines Community College (SVGCC) vying against each other.
The first round of the debate on Friday saw SALCC defeating SVGCC in debating the topic: "The perpetual heavy reliance on tourism by Caribbean countries as an economic driver is unwise."
In the second semi-final also on Friday, DSC got the better of TAMCC in debating the topic: "There should be fixed terms (in office) for Prime Ministers in the OECS countries."
On Saturday, Dominica State College defeated Sir Arthur Lewis Community College in a keenly contested final debate on the topic: "The lack of good governance in the Caribbean is more debilitating to the sustainable development than the likely impacts of Climate Change."
The overall best speaker was Rahym Augustin-Joseph of SALCC.
This is the second year of the WIDC and the second time that DSC has come out on top. This year was no easy feat, as they had to overcome the devastation of Hurricane Maria in September 2017, which closed the DSC for over two months. It reopened partially in November 2017. Most of Dominica is still struggling with electricity issues and Internet connectivity.
Last year's competition was held in St Lucia and next year's competition will take place in Grenada.