Posted on
Women pressure Gonsalves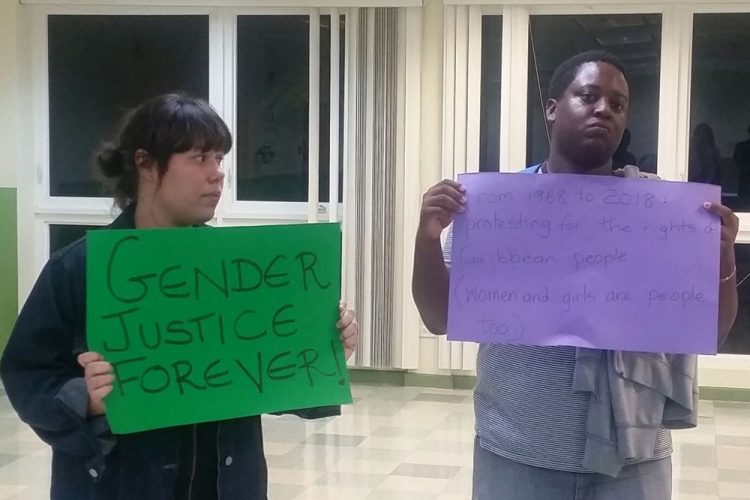 Prime Minister of St Vincent and the Grenadines Ralph Gonsalves has maintained that he was willing and would still meet with the women who were protesting as he delivered a lecture last week Thursday night at the Cave Hill campus of the University of the West Indies.
Gonsalves was in Barbados lecturing on 'Effects Of International Relief On CARICOM Small Island Developing States,' when he was confronted by the three protesters, one of whom said they were in "solidarity with our sisters and brothers across the region."
They chanted, among other things, that women's lives matter, not only Black lives, while holding aloft placards, as Gonsalves prepared to give a speech at the Henry Fraser Lecture Theatre, Cave Hill Campus.
The protest came in the wake of recent controversy and criticism over the handling of a case involving 23-year-old model Yugge Farrell.
As the women interrupted him, Gonsalves said, "My sisters, at an appropriate time, I am prepared to discuss with you all all those issues you have raised, because I think they are important issues."
This was rebutted with "They are important issues," by an activist.
"Absolutely not," Gonsalves responded, when asked whether he was fazed by the interruption.
"I was quite calm. She was quite wrong about what she was asserting and wrong about the mode of the protest. I didn't see them afterwards and I would have spoken for about an hour and hung around answering questions and I took photos," Gonsalves said, adding that he looked for the women, but they were gone.
Gonsalves maintains that he would still meet with the women to clear up the matter.
The protesters, UWI lecturer Dr Kristina Hinds, public relations officer of the National Organization of Women Marsha Hinds, and Luci Hammans of the Life In Leggings movement, made reference to Farrell's case, calling for "justice for Farrell" and demanding "an end to nepotism."
"We do not like the abuse of power. We will not show deference to politicians or prime ministers, because we are in solidarity with our sisters across the region, because women's lives matter too," declared Hinds, as she and the other protestors held their signs aloft, as university security officials tried to intervene.
"We don't just want to help with natural disasters. We want to help ensure our political system guarantees justice for all," she added.
The protest went on for about 10 minutes before the women left the lecture theatre in the company of security officials.(from the Barbados Nation)