Posted on
Two more pool players secure spots in grand finale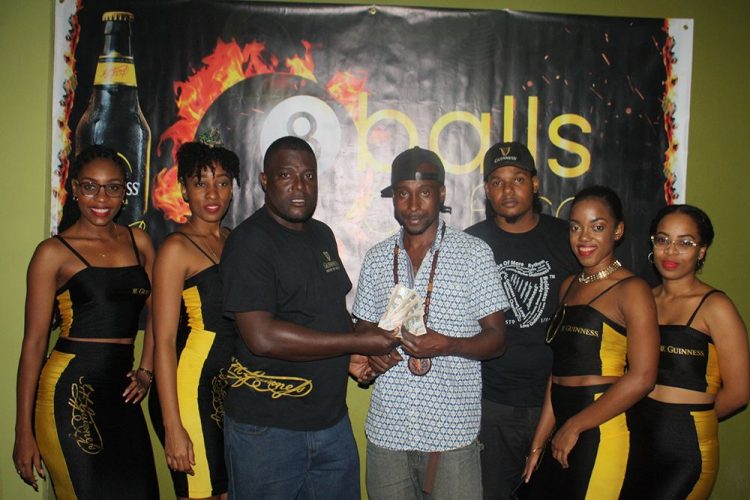 Osmond 'Ozzie' St Hillaire and Timron Padmore are through to the grand finale of the 2018 Guinness Eight Balls of Fire pool competition, scheduled for Saturday, March 24.
St Hillaire defeated Omaro "Wizzyman" in the wee hours of Sunday February 18, at the Tree House Bar in Arnos Vale, while Padmore beat Lloyd Thomas at the Skyline Bar in Paget Farm, Bequia, on Sunday, February 25.
"Tell the other players don't bother coming to the grand finale, that's already mine," St Hillaire commented, after emerging victorious out of a group of 64 players.
St Hillaire is the reigning champ, having won in 2017.
Padmore is also boasting that he will take the grand prize of EC$6,000.
"I am very ecstatic right now, I feel I deserve to win, I came to couple venues and I know my potential," Padmore said, after receiving his EC$600 prize money from tournament supervisor Cleve "Skip" McKenzie.
"I have been playing pool since school days, since I 15 and now I am 49. I am motivated to win in the finals. I already have the vision and tonight is my motivation for the finals," Padmore further commented.
The other legs of the competition will take place at Drop Off in Sans Souci tonight, Friday, March 2, the Police Canteen in Kingstown on Friday, March 9 and Azard Bar in Troumaca on Saturday, March 1.
The other persons who have earned their places in the grand finale so far are, McKies Hill resident Ozzie St Hillaire, who won at Tree House Bar in Arnos Vale on Saturday, February 17; Largo Heights resident Phillip Martin, who emerged victorious during the third round of competition, which was held at Auntie Merlene's Bar in Mesopotamia on Friday, February 9; Martello "Marty" Knights, who won on Saturday, February 3, at Nani's Bar in Pembroke; and Brian John, who won on Friday, January 26, at West Side Bar in Rose Place.