Posted on
Officers now better equipped to aid in rehabilitation of juveniles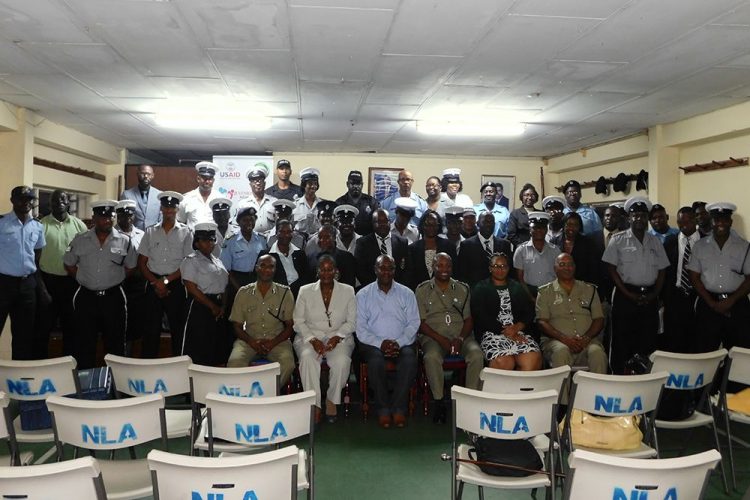 Police officers from different units have been retooled and are now equipped to rehabilitate juveniles caught on the wrong side of the law.
A two-week sensitization workshop, hosted by the OECS Juvenile Justice Reform Project (JTRP), closed on February 15 at the Police Training Centre at the Old Montrose Police Station.
Gloria Augustus, the main facilitator from the OECS Commission, said participants included stakeholders from the Royal St Vincent and the Grenadines Police Force, Her Majesty's Prison, probation officers, the staff at the Liberty Lodge Boys' Training Centre, members of the National Commission on the Rights of a Child, Marion House and prosecutors from the office of the DPP.
She explained that the recently trained stakeholders understand that juvenile justice is a complex, multisectoral system, which requires all people and institutions in contact with the young persons to understand and be supportive of the reform.
"That is why the USAID, through the Juvenile Justice Reform Project Phase 1, made $5.4 million available to the OECS states to help them make the necessary changes, get the necessary training, and adopt the best practices for the reform," Augustus said.
She explained that St Vincent and the Grenadines was the front runner in phase one in developing a National Diversion Strategy and that the project is currently in phase two, with a focus on diversion, rehabilitation, and reintegration.
Nevertheless, she suggested that SVG still must make small changes to facilitate the full implementation.
"Undoubtedly, it requires a political will and ideology that takes into consideration the reform. It also needs professionals like you, who understand and support the system, and also the understanding and support of the children who are in the system."
Augustus also said that the community needs to participate and allocation of resources would be needed to ensure the change.
During the closing ceremony, Frederick Stephenson, Minister of National Mobilization etc, announced that the complementary Child Justice Bill is currently in the draft stage at the Attorney General's Chambers and he hopes to have the first reading at the next sitting of Parliament.
He encouraged family members of incarcerated youths to forgive and be more supportive of reintegrating them into the community, since too many young persons are in prison.
The workshop ran from February 5 to February 15, and was spearheaded by the Ministry of National Mobilization.(CB)