Posted on
NSC workers happy with collective agreement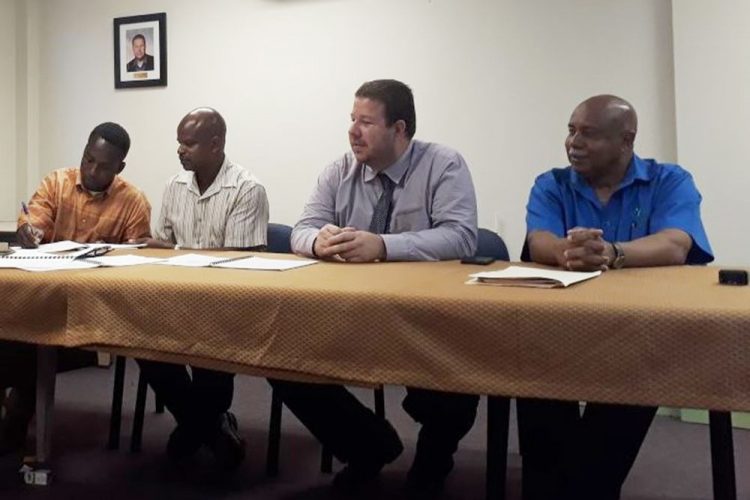 It has been a long wait, but the signing of a collective agreement last week Monday between the Public Service Union (PSU) and the National Sports Council (NSC) has been fully embraced by all stakeholders, but especially the workers.
Justin Tittle, shop steward, speaking on behalf of the 26 employees of the NSC, who are members of the PSU, told SEARCHLIGHT of a feeling of achievement.
"We have been waiting for a very long time for the signing of this agreement and we are relieved, we are feeling much better, because there are things we have been looking forward to for some time now," Tittle said. He revealed that over the years, the workers have been grappling with several issues, particularly health and safety matters, and with the collective agreement, he is hopeful those concerns would be addressed in the shortest possible time.
Tittle is cognisant that his fellow employees have to work within the parameters of the agreement and the laws of the land.
"Our ground staff has to work towards the collective agreement and what is in it for us and the management," Tittle underlined.
Meanwhile, chair of the National Sports Council Richard Branch stated: "We understand that a union agreement is for our own benefit… It is a signal, an agreement between us, the Public Services Union and the workers that we will first of all abide by the law, because that is a governing principle.
"This agreement is going to work for the benefit of the workers; it is going to benefit by extension the country as a whole…. It allows the workers to work in a safe environment; it can and will convert to being more productive workers."
Revealing that the signing of the agreement was timely, Branch noted: "We have had in recent times some incidents that …[have] tested our resolve in terms of our corporate governance."
And, adding his piece to the accomplishment was Elroy Paul Boucher, president of the PSU, who thanked the chair of the NSC.
"When Mr Branch took over the position he now holds, there was no objection to getting this agreement signed…. In fact, he himself expressed great desire in having it done and having it soonest."
Boucher also lauded the enthusiasm of others, including NSC board member Julian Burgin and current manager of the NSC Miles Bascombe, stating: "Those persons must be applauded, because it is the right attitude towards workers in St Vincent and the Grenadines.
The final signing of the collective agreement has been protracted, with initial efforts starting over 10 years ago.(RT)