Posted on
Students injured in Rilland Hill bus crash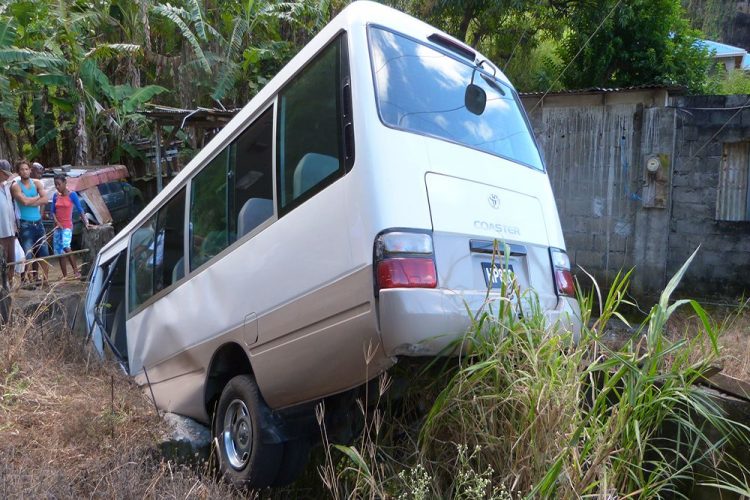 St Elmore Gordon, the father of one of the schoolchildren who were in a bus that crashed at Rilland Hill, is thanking God that his daughter was not killed.
"I feel bad about my daughter, but thank God she alive," Gordon told SEARCHLIGHT on Monday outside the Accident and Emergency (A&E) Department at the Milton Cato Memorial Hospital (MCMH).
Gordon's daughter, 14-year-old Kimonique Foye of Rilland Hill, a third form student of the Girls' High School (GHS), was on her way to school at around 8:40 a.m. when the bus she was in, with approximately 20 other persons, crashed near Cocobay Rock, Rilland Hill.
The bus is owned by Norville Abraham and at the time of the crash was being driven by Norville's cousin, Andy Abraham. The driver told police that the braking system of the bus failed.
Foye, in the presence of her father, at the A&E Department, said she was in a lot of pain. The teen, who sustained injuries to her head, hip, arms and neck, said she was sitting in the front of the bus when it crashed.
Lynesia Isaacs, another secondary school student who was in bus, told SEARCHLIGHT that when the driver lost control, everyone was sitting.
She said she was scared and it seems as if everyone was screaming and she tried to hold on, but twisted her arm, which ended up between the seats of the bus.
Passengers exited the vehicle after it came to a stop by jumping through the back windscreen. Isaacs revealed that the bus was also transporting pre-school aged children.
The MCMH was filled with secondary school children at visiting hour yesterday, as they tried to see and console their classmates who were injured in the accident. It is not sure exactly how many persons were injured in the accident.
Police are investigating.