Posted on
Stakeholders attend first AGRICOM sensitization meeting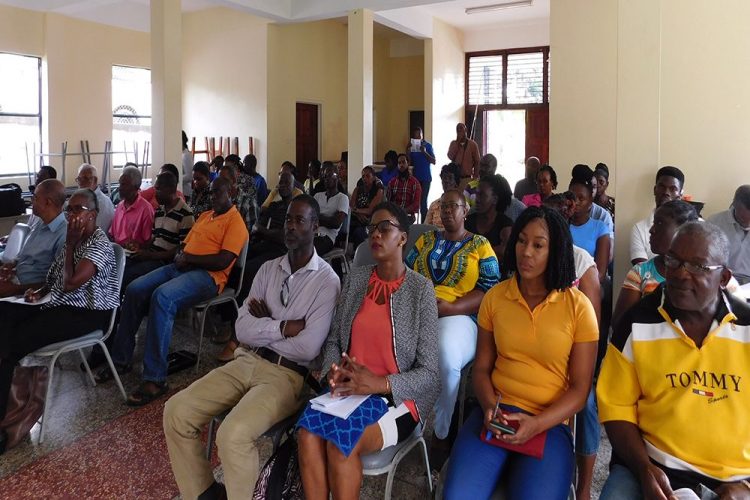 The first sensitization meeting for farmers, fishers and agro-processors about the OECS Agriculture Competitiveness (AGRICOM) Project, was held on Thursday, February 15.
The project aims to enhance access to markets and sales for competitively selected farmers and fishers, as well as their allied aggregators and agroprocessors/markets.
Senior forestry supervisor Cornelius Richards explained that recommendations made by the stakeholders in the meetings will determine how the project moves forward to benefit them later on.
Project co-ordinator and agri-diversification officer Colville King explained that the project will provide grant financing to collaborating farmers, fishermen and their agro-processors.
King said that the system is not organized in such a way to lock certain markets and sustain them over time.
"The project would support technically feasible business plans, which, of course, is of competitiveness and the process (to choose successful business plans) will be a competitive one…Any proposal that comes must be a joint proposal between producers and aggregators or marketers," King said.
He said the difference between this project and other projects is that matching grants would be given to both producers and marketers, and not to an individual entity.
The project is co-funded by the World Bank and the Government of St Vincent and the Grenadines to the tune of US$5.02 million. It has as its objectives decreased rural poverty, a reduced food import bill and improved rural employment, over a five-year period from June 2017 to May 2023. It is being implemented under the theme "Promoting Agri-Market Development."
For more information call 456-1410 or 456-1111 Ext 311 or 321.