Posted on
Vincentian woman wins part of Super 6 jackpot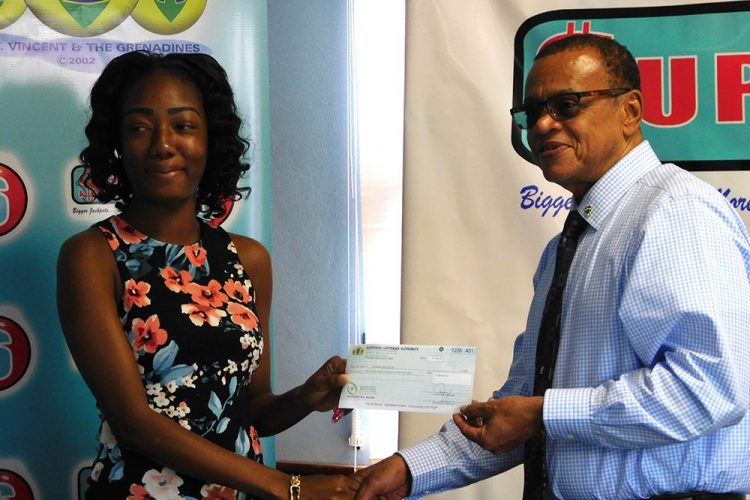 A 23-year-old woman is the latest winner from St Vincent and the Grenadines (SVG) in the four-island Super 6 draw.
Julianna Aberdeen from Kingstown Hill won $280,000, part winnings from last Friday's jackpot of $840,000. There were two other winners, both from St Lucia.
Aberdeen said she was still in shock about being a winner and does not have immediate plans for the cash.
"I will look at who are there for me from before and then go on from there," she said in response to a question about those who will seek her friendship now that she has won.
She disclosed that the winning numbers were chosen from the birth dates of relatives.
The winning numbers were 3,7,9,13,17 and 21, and the ticket was bought at the North River Road Football Federation booth.
Anthony Dennie, product development officer at the NLA, described last Friday night, just prior to the draw, as a frenzy, as some people did not get to buy tickets.
"I understand a lot of our booths, when the clock struck eight o'clock, a lot of persons were left disappointed because so long were the queues, that persons didn't really get the opportunity to purchase that ticket.
"There are some who have the trend of thought that oh if I buy that ticket at a certain time, I stand a better chance of winning. No, once that ticket is in and you purchase those numbers, that is your chance," Dennie explained.
General manager of the NLA McGregor Sealey congratulated Aberdeen on her winnings and urged her to use it wisely.
"Not so often we have these jackpot winners and after a while they get broke," the general manager said.
The last Super 6 winner was in November 2017, while 11 persons have won the draw since its inception.
The game is played in Dominica, Grenada, St Lucia and SVG.
Aberdeen encouraged persons to play the Super 6 draw.(CB)