Posted on
Richland Park man wins free Suzuki Swift from Digicel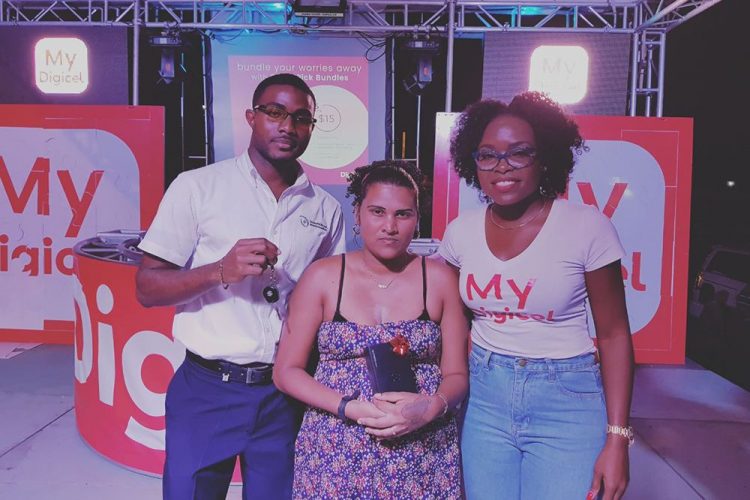 It was an evening of exciting and great wins for persons at Heritage Square on Friday, February 16, when telecommunications and entertainment provider Digicel brought the curtains down on its 'My Digicel Tuesday Suzuki Swift' promotion.
Last Friday's activity, which took the form of a draw, saw the finalists assembling two eight-foot tall puzzles and battling out in a quiz, which generated quite a stir at Heritage Square. The finalists were Kerisha Bullock, who represented her brother Kerry Bullock of Calder. Bullock qualified for the finals after texting CAR the most to 1131. The other finalist was Anthony George of Richland Park, an employee at the Bank of St Vincent and the Grenadines. George qualified on the spot to participate, after being the first person to text the year and month Digicel commenced operations in St Vincent and the Grenadines.
At the end of competition, George emerged winner and drove away with the FREE Suzuki Swift, with six months paid up licence and insurance for an entire year, after recording a total of 1,000 points. Meanwhile, Bullock did not walk away empty-handed and was rewarded with a brand new Samsung Galaxy S8.
An extremely happy George told cameras on Friday, "Since back in August 2017, when the competition launched, my wife and I religiously opened the My Digicel app when prompted by the texts for our chance to win. We frequently reminded each other that it was Tuesday, to open the App. We also won umbrellas and discounts off our postpaid bill from using the My Digicel App."
George added, "Leading up to the draw, my wife became extremely anxious. She frequently showed me pictures of other Suzuki Swift with rims and other customizations she would like. On Valentine's Day, she made a lot of confident jokes about if she wins the car what would happen." He added, "To my surprise, my wife called on February 15, saying she won a trip for two to Young Island, compliments Digicel! In my mind I thought she was still joking. It's not until I saw the gift voucher that I began to take this Digicel promotion very seriously."
The grand prize winner further stated, "I got the feeling that questions concerning the App and Digicel would be asked, so my wife and I both pulled up the Digicel website and did our research. When Candy Man told everyone to take out their phones, I instantly became excited."
Meanwhile, Digicel's marketing executive Jamisha Wright congratulated all the winners, including Daryl Wilson, a member of the audience, who won himself a brand new Samsung Galaxy S8 for activating a Quick Pick 5-day bundle on the spot. Wright told the audience to look out for something grand in the coming months, and encouraged persons to continue using the very convenient My Digicel app to enjoy exclusive deals. The marketing executive ended by thanking Sentry Insurance for offering an additional six months free insurance coverage to the winner.
Friday's draw was supervised by Jamal Bushay and Kizzurn Grant, auditors from the auditing firm KPMG.