Posted on
AIA has been better than expected – Director of Airports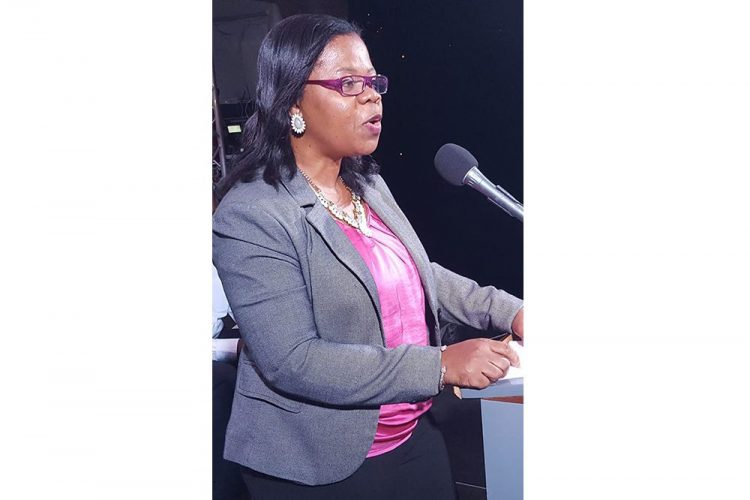 The Argyle International Airport (AIA) has brought a plethora of benefits to St Vincent and the Grenadines (SVG) and has uplifted the local aviation industry.
"Operations have been better than expected and while it has just been one year, it is absolutely clear that we have an opportunity here that would not have been possible without the Argyle International Airport," said director of Airports Corsel Robertson.
Speaking at a rally at Johnson Hill, Argyle last Saturday, held to celebrate the AIA's first anniversary, Robertson said the numerous improvements to the aviation landscape were not possible at the decommissioned ET Joshua Airport.
She said aircraft operations have been excellent, as none of the flights that have been cancelled at the AIA happened because of any issue or issues at the new airport.
"Any flights that have been cancelled here are for some other reason. At ET Joshua airport the interruptions would have been certain," said Robertson.
She said that in the last three or four years, persons were unable to book a flight to or out of SVG in the months of July or August, but the AIA has changed that.
"…Another is getting to your destination on the day you planned…how many of you here journeyed to the airport with a plan to travel and had to come back two, three days later? How many of you were here on vacation and missed your connection to get back to the US or Canada on time? How many people here managed to miss an appointment to the embassy, doctor or meeting because the flight was cancelled, and you couldn't get out? Argyle Airport brought an end to all of that," said Robertson.
She noted also that before the AIA, persons sometimes slept at the Grantley Adams International Airport in Barbados or the Piarco International Airport in Trinidad, because the flight could not come to SVG because of strong winds. Another issue that travellers faced was missing luggage and personal effects, but according to Robertson, "that is over."
Going further, Robertson said that with the AIA, there were many concerns about the wind, but the staff at the Meteorological Division has been paying close attention to wind speed and direction and air traffic controllers have been monitoring aircraft performance during high winds to see if anything looks strange during take-offs and landings.
"…the past two or so weeks has been a great test of this performance," said Robertson, noting that records show that wind speeds have been averaging 16 to 20 knots over sustained periods with gusts up to 30 knots.
"In flight take-off aircraft performance has improved in some cases and the climb out is faster and better than when the wind is low," revealed Robertson, who added that members of the staff at aviation services are still revelling in the benefit of Argyle over ET Joshua.
Other benefits include, a larger parking apron, a runway double the length of ET Joshua, an end to late night extensions due to daytime cancellations, an end to dangerous tailwind take-offs, being able to land and take off in any direction and no special authorization for night operation.
"These benefits were but a dream at ET Joshua and I believe that each air traffic controller that is listening would recall a moment when we were at ET Joshua and an aircraft is taking off that you held your breath, as you imagine it trimming the grass at the end of the runway before it lifted off because of that tailwind. Argyle airport is safer than ET Joshua," stressed Robertson.
She noted that these improvements are reflected in the flight statistics and persons can see this as, during the month of December and January 2018, the AIA revelled in the return of the private jets that for many years went to other countries because they could not come into ET Joshua.
She said that another look at flight statistics revealed that prior to the opening of the AIA, the trend at ET Joshua was a downward, in that they were losing traffic, a reduction in flights year by year, up until 2016.
"As the international requirements for aviation increased, we fell further and further behind in our compliance, due to our natural physical challenges; these were the river, the sea and the hills on three sides, but at Argyle, in 2017, this has changed," said Robertson.
Robertson said records show that in 2016, compared to 2017, 2017 had a 6.5 per cent increase in airport operations on mainland St Vincent.
She noted also that between February 2016 to January 2017, compared to February 2017 to January 2018, it was discovered that the increase in flights is 7.8 per cent. She noted also that there is an increase in passenger movement.
Describing the AIA's first anniversary as an important milestone in the country's history, Robertson said we have come a long way since 1943 when airport operations started with the establishment of an airfield at Diamond, then a move to Villa, followed by a move to Arnos Vale.
"ET Joshua Airport served its purpose and remained as the main port of entry for over 55 years, but after two decades of those 55 years, it was quite apparent that its limitations would be detrimental to our economic development.
"In the early 1980s an idea was born; we recognized that we needed a new airport, but the questions were, where would we put it and how would we fund it?" recalled Robertson, who opined that no one wanted to take on the challenge, as it was felt that it would cost too much, and it was impossible to build a new airport.
"…But our God who has seen the suffering of our people and who feels our pain made the impossible possible. He sent us someone courageous, with vision and strength to take on the challenge and the rest is history," said the director of Airports.(LC)