Posted on
SVG launches EC$28.7 million Human Development Project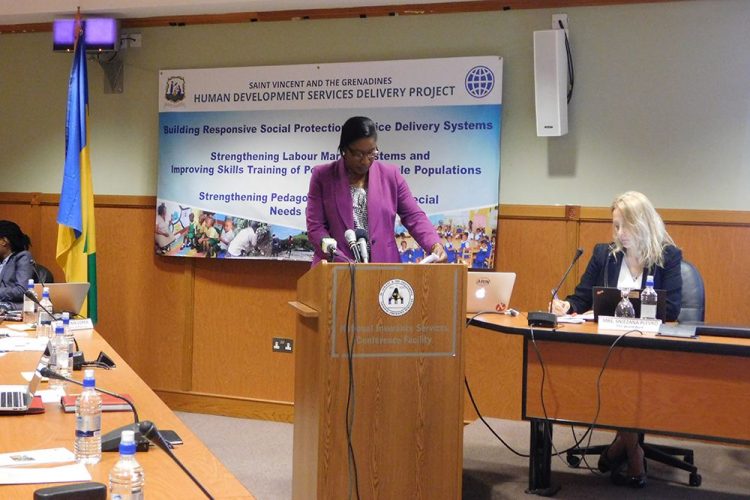 The St Vincent and the Grenadines (SVG) Human Development Service Delivery Project, which is valued at EC$28.7 million, was launched last Tuesday at the conference room of the National Insurance Services (NIS) Ltd.
The multisectoral project, which consists of four components, will be implemented by the division of Economic Planning and Sustainable Development in the Ministry of Finance and Economic planning, the Ministry of National Mobilization, the Ministry of Education and the Department of Labour.
Senior economist and planner Louise Tash said EC$5.8 million has been allocated for the first component, which will seek to strengthen the quality of service delivery in education.
The second component will be implemented through the Ministry of National Mobilization and will seek to improve the efficiency of social protection systems at a cost of EC$9.3 million. Tash said part of the second component is an enhanced Country Poverty Assessment (CPA), which will be done to provide data needed to design and improve public assistance approaches.
Strengthening labour market systems and improving skills training of the poor and vulnerable population will be tackled in the third component and will cost EC$10.3 million.
"The main objective of this component is to advance capacity for delivery of Technical Vocational and Educational Training (TVET)," Tash said.
She explained that Project Implementation and Support is the final component of the project, for which EC$3.3 million has been allocated.
"This is where we are going to do all the operations and oversight of the project. We would have project co-ordination, project management evaluation systems and external technical verification audit," Tash explained.
The project was implemented in September 2017 and will run to July 2022; it is financed by a grant of US$10.7 million from the World Bank.
Representatives from the World Bank, the Caribbean Development Bank, the OECS Secretariat and the local ministries were present at the launch. (CB)