Posted on
'Some roads in SVG are downright dangerous' – Opposition Leader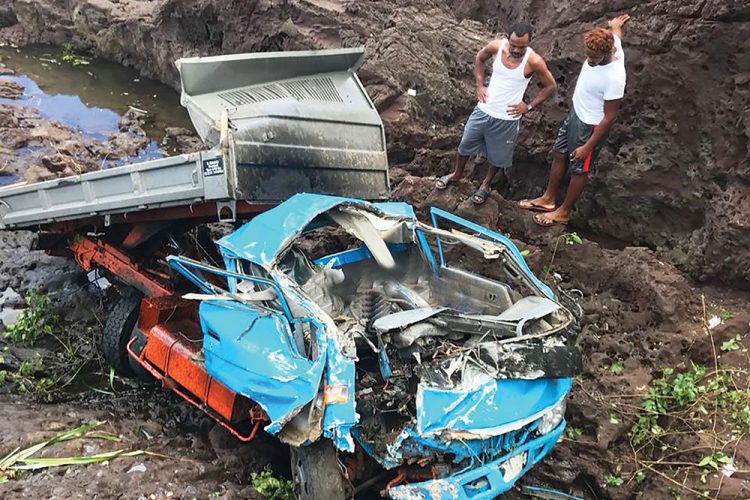 In the context of a road fatality which occurred on February 1, Leader of the Opposition Dr Godwin Friday says that some roads in St Vincent and the Grenadines (SVG) are "downright dangerous."
Friday, speaking at a press conference at the New Democratic Party (NDP) headquarters last Friday, February 16, extended condolences to the wife and three children of Amos Gaymes.
Gaymes, who was from Sandy Bay, was 57 years old when he met his death, after the truck he was driving careened off a cliff in Point area of North Windward. The truck was reported to have been carrying a load of arrowroot from Sandy Bay to the arrowroot factory at Owia, for processing.
Friday noted, "every time I drive in that area, I wonder about the dangers that are there, and similarly in North Leeward."
He cited the topography of the island, with its many hills, as having the potential to create dangerous road situations, "if they are not properly maintained" and measures such as proper guardrails not put in place.
"We want to acknowledge that this is a perennial danger," he stated, continuing "we hope that as dangerous as they are, that there will be no fatalities, and further fatalities, or serious injuries before they are fixed and repairs."
The Opposition Leader described the roads in the country as "abysmal", further saying, "They are the worst condition they've been since in living memory, and some of them are not just inconvenient, they are downright dangerous. Dangerous."
Friday ended by saying, "We have to continue to hold the government accountable and responsible for maintaining (the roads)..continuing to take taxpayers' money, and not dealing with these essential matters that provide safety and security for the people."