Posted on
Trinity conducts physicals for athletes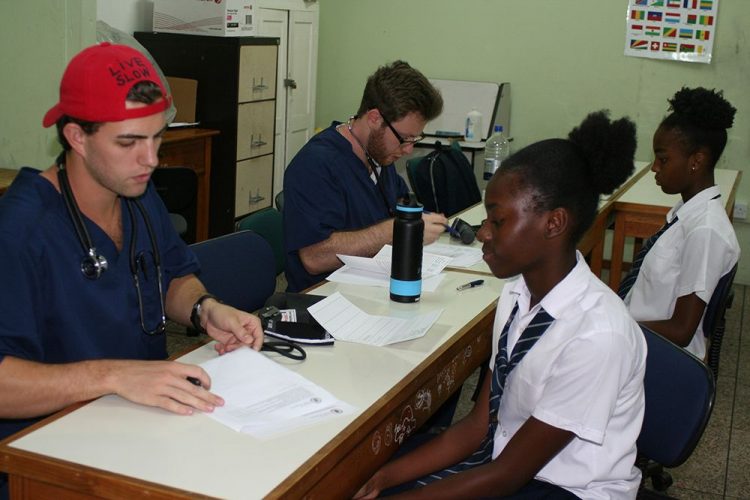 When the Girls' High School held its annual sports meet on Wednesday, each of its athletes had been taken through a physical examination.
This sports physical was conducted by Trinity School of Medicine on February 5 and 7, during which 69 athletes were examined.
The sports physical, which was not intended to disqualify any athlete, defined the level of safety of participation for each student, making sure that the bodies of the athletes could handle the demands of a sports meet.
The Girls' High School expressed its gratitude for having the checks conducted promptly upon request. Deputy headmistress Athalie Caine-Soleyn noted, "We take physical education seriously here and this is all part of it. These checks are important, because we don't want any medical incidents that could have been avoided, as we have had very recently, not because we didn't do a check, but because we weren't aware of medical history. This check, therefore, is integral to helping us to foresee and avoid these incidents."
Dr Frances Jack explained that a successful physical gives the athlete clearance to participate in the sport meet. She stressed the importance of such an activity, stating that the girls become more confident of their performance on sports day, having been cleared after such a procedure. She also highlighted the fact that issues which would require further attention are picked up.
"We picked up two persons with asthma," she said. "They had some wheezing and we were able to counsel them with regard to taking their medication before they get involved in any sort of activity. These we will follow up right to the point of the sports meet. There was one person who was picked up with a heart murmur, whom we are going to refer to the World Pediatric Project; because of that, she couldn't be cleared for the sporting activity."
Future physicians were also given the opportunity to participate in these activities. Fifth term student Jacob Pletz described his experience: "It was really great, today being able to work with the high school, just to make sure that the girls are physically fit and ready for activity. It was nice to get and use the skills that we've learned at Trinity to interact with and help the high school students."
Atthe conclusion of the examinations, headmistress Michelle Beache interacted with the team and thanked Trinity profusely for its contribution to the 2018 sports meet.