Posted on
TGHF to host cultural activities to celebrate Heritage Month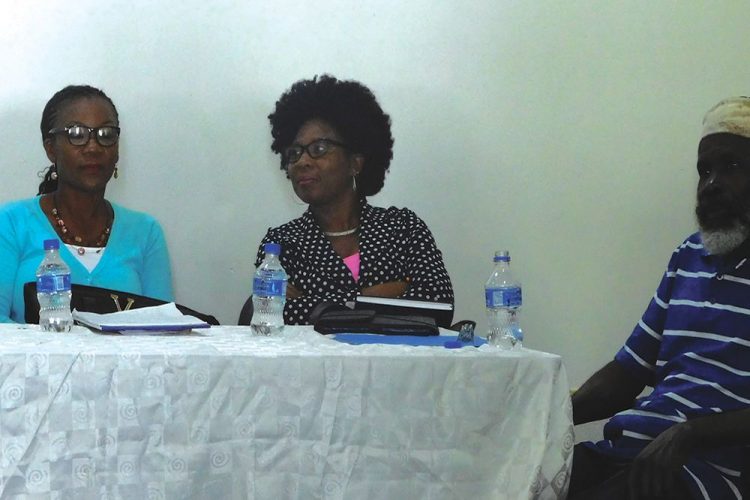 The Garifuna Heritage Foundation (TGHF) has launched activities to celebrate National Heroes and Heritage Month in March.
At a media launch on Tuesday, David 'Darkie' Williams, president of the Garifuna Heritage Foundation, said the first event will be a Cultural Market Place on March 8 and 9 at Heritage Square. He said over the past four years of the market place, craftsmen have always benefited. He urged the public to visit the exhibition and to make purchases.
On March 9, the fourth Annual Schools Garifuna Folk Festival will be held at the Victoria Park, from 9 a.m. Claydonna Peters, Dance Development officer in the Ministry of Education, explained that from 8:30 a.m., students will march from the Bishop's College Kingstown to the Victoria Park, after which the festival will take place.
She explained that the march will be accompanied by the Royal SVG Police Force Band and the CW Prescod School Band, with the students attired in yellow, black and white, the Garifuna colours. Peters said so far, 11 primary schools and 10 secondary schools have confirmed participation.
Peters explained that "the festival is geared toward heightening the students' interest in the Garifuna heritage, making learning fun and exciting: celebrate our heritage and to showcase the talents of our children."
Aldia Gumbs-Dyer, senior education officer, said the aim of the festival is to transfer aspects of Vincentian culture to youths and heighten their sensitivity to the issues of cultural preservation.
On March 11-12, the first inaugural meeting of the Network of Indigenous and Tribal Peoples of the Caribbean Region will be held. Williams explained that the regional organization was developed to strengthen preservation goals.
"The meeting will see representatives coming from, Belize, Trinidad and Tobago, Dominica, Suriname, Guyana and from other regions and countries, who have an interest in what is happening in the Caribbean," he said.
Then the 5th Annual International Garifuna Conference will be held at the Peace Memorial Hall on March 12 and 13.
At 5 p.m. on March 12, the keynote address will be delivered by Dr Yanique Hume, lecturer, Department of Cultural Studies, UWI Cave Hill Campus. The theme for that event is 'The Island of Balliceaux: Sacred Lands or Economic Opportunity'.
On March 13 from 9 a.m., various scholars and practitioners of the Garifuna culture, particularly those from indigenous communities, will have the opportunity to interact with Vincentians.
Finally, a musical theatre production called 'Mali' will take place on March 23 and 24 from 8 p.m. at the Peace Memorial Hall. Williams explained that the play is unique, since the cast's members are mostly students, who will use elements of the Garifuna culture to depict issues which affect women. The entrance fee is EC$25.
The Garifuna Heritage Foundation made an appeal for the public to support the events and for tour guides and taxi drivers to bring visitors to view the cultural events.(CB)