Posted on
Largo Heights man takes third round spot in Guinness pool competition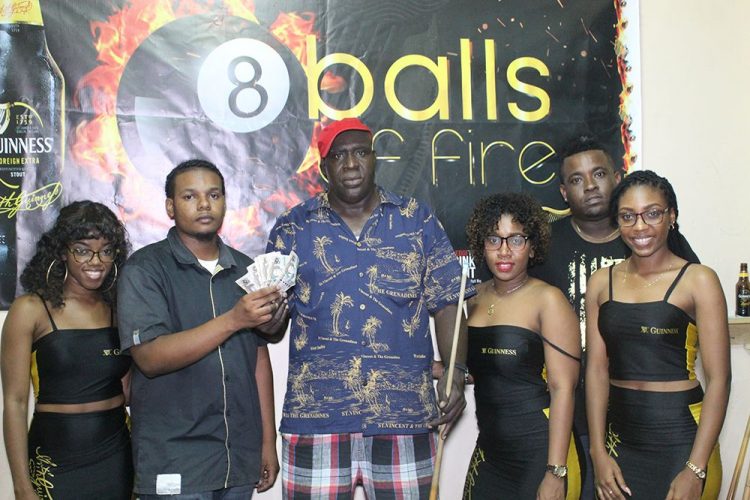 Last weekend, the third round of the 2018 Guinness Eight Balls of Fire pool competition played on for over nine hours and at the end, it was Largo Heights resident Phillip Martin who emerged victorious.
Martin defeated Glenroy Cupid in the final game of the third round, which was held at Auntie Merlene's Bar in Mesopotamia, last Friday, February 9.
"I have been playing pool for 40 years, since I eleven and this is excitement, but is a regular thing me winning," said Martin, after receiving the EC$600 third round prize money from the St Vincent Brewery's Trade marketer Romario Delicia.
Martin said the competition is "a good one", but he would like to see a few things changed.
Apart from winning the third-round prize money, Martin has also booked his place in the Saturday, March 24 finals, where he will play for EC$6,000.
"In the finals, I will be winning", boasted Martin.
The competition continues at the Tree House Bar in Arnos Vale this Saturday, February 17. It moves to the Skyline Bar Bequia (Saturday, February 24). Drop Off in Sans Souci (Friday, March 2), Police Canteen in Kingstown (Friday, March 9) and Azard Bar in Troumaca (Saturday, March 17).
The competition is being co-ordinated by Brewery's Trade marketer Cleve "Skip" McKenzie.
Rocky Punnett won the competition in 2016 and Alson Barker won in 2015.  Osmond "Ozzie" St Hillaire, last year's winner, is hoping to do the double, but has so far been unable to secure a grand finale spot.
The other persons into the 2018 finals so far are Brian John of Hopewell and Martello "Marty" Knights of Pembroke. John won the first round at the West Side Bar in Rose Place on January 26 and Knights won at Nani Bar in Pembroke on February 3.