Posted on
CW Prescod Primary hosts Daddy, Mommy Day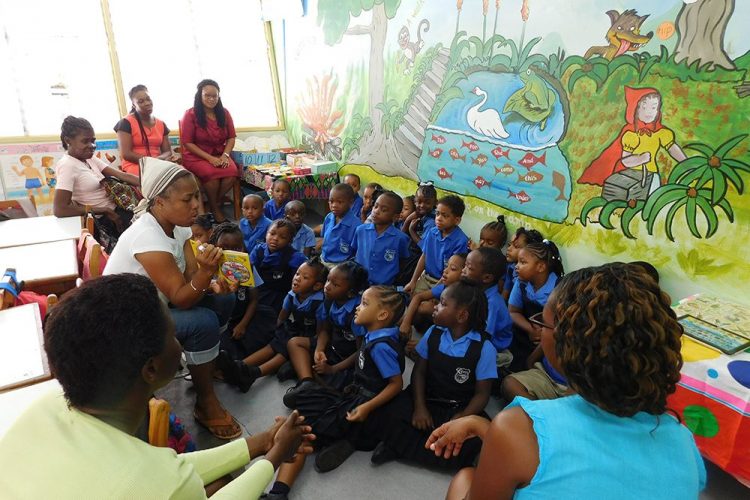 The CW Prescod Primary School kicked started their Literacy Week with a Daddy's and Mommy's Day last Monday, February 12.
Counsellor at the school Patsy-Ann Garraway explained that the mothers were invited to spend the morning with their children in Kindergarten and Grade 1, since the fathers had visited those grades last term, while the fathers of children from Grades 2 through Grade 5 were invited this term.
"This time it's for Grades 2 to 5, where we have the dads coming in. They would tell the students about what work they do and interact with the students and teachers. And from there they will have ice-cream with the students at breaktime. And then we are having a mini conference about responsible fatherhood…and how to mentor other men to step up to their responsibility," Garraway explained.
Superintendent of the Kingstown Chateaubelair circuit of the Methodist Church Reverend Adolph Davis told the fathers at the short conference that being a father means you are responsible for the child's life.
"…Whether or not you like it, the fact that you name 'Daddy', that child's future is significantly going to be determined by you. Whether you are there or not there. Their future is going to be affected by you…being a responsible father starts with understanding how important you are to the equation," Reverend Davis said.
He elaborated that if fathers display a very competent way of handling life's challenges and circumstances, their children will adopt that ability.
Furthermore, fathers don't realize how their example affects children, Davis said.
"He saw his daddy doing that (beating the mother), so he is convinced that it is not his fault…he learn that from his daddy. Some of you have girl children, and even girl children allow men to mistreat and abuse them, because that is what they see daddy doing mommy….We don't realize how our example affects our children," Davis stated.
Principal of the CW Prescod School Suzette Abbott King explained that research shows parents' involvement can have a powerful influence on children's literacy. She asked parents to encourage their children to read and write, expose them to nursery rhymes and read with and for them.
SEARCHLIGHT observed some parents interacting with children whose fathers were not present. The event was, however, well supported, with many parents participating.(CB)