Posted on
Two Humber College students to receive CAD$5,000 grant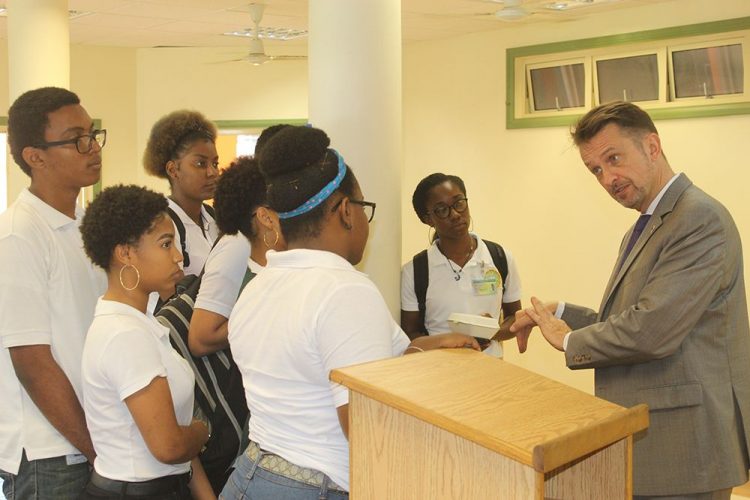 Local businessman Keith Boyea, on behalf of the local Humber College alumni, has pledged CAD$5,000 to two local students who decide to enrol at Humber.
And, as a result, Humber College has matched that pledge with another CAD$5,000, meaning that each of the two students will benefit from a total grant of CAD$5,000.
Boyea made the pledge on February 5, while delivering remarks at the St Vincent and the Grenadines Community College (SVGCC), where an articulation agreement was signed between Humber and the SVGCC.
The articulation agreement means that students who choose to further their studies at Humber, and hold associate degrees in business from the SVGCC, can now move straight into year two of Bachelor of Commerce programmes at Humber in Hospitality and Tourism Management, Marketing, Supply Chain Management, Fashion Management, Management Studies and Digital Business Management.
Boyea, who studied at Humber in the early 70s, said that this agreement is "a great opportunity" for students. He noted that having one year off university is going to make life easier for students.
"It is not that you are going to do less studying, but it will give you more time to do other things," explained Boyea, who noted that in his time, he had done A level subjects here, but they were not recognized at Humber and he and others had to start from scratch.
"On behalf of the alumni, we have always tried our best to keep the name Humber going. You will not understand the influence that Humber has left on our community; a lot of businesses are staffed and supported by Humber… to witness this agreement is great," said Boyea.
He said that noted architects Moulton Mayers and Sibert Liverpool are Humber taught professionals and he is encouraging persons to take advantage of the opportunity to join Humber.
"We have some funds, and we want to offer some help to the first set of students…we will commit to $5,000 Canadian," announced Boyea.
In response, Humber's associate director of International Recruitment and Market Development for the Americas, Amanda Koski, said that they will match the contribution with an additional CAD$5,000.
She said that Humber has been working for two years to have the articulation agreement signed, so they are thrilled to see it become a reality.
Koski revealed that currently, there are 10 students from SVG enrolled at Humber, making a total of 285 students from other Caribbean countries at the college located in Toronto, Ontario, Canada.
"We are a diverse and multicultural institution," said Koski.
Vincentian students at Humber are currently pursuing studies in paralegal studies, law clerk, health care management, hospitality and tourism management and graphic design