Posted on
SVG steps up fight against human trafficking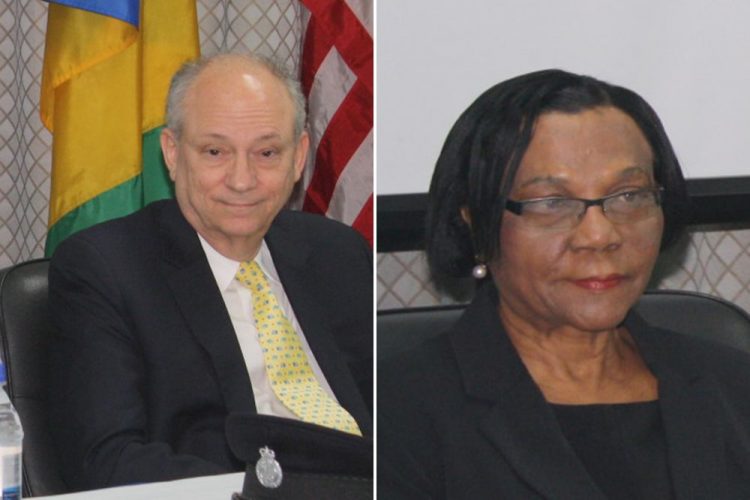 Human trafficking is the world's fastest growing criminal industry and every 30 seconds someone becomes a victim.
On Monday, Inspector Junior Simmons, head of the Royal St Vincent and the Grenadines Police Force (RSVGPF) Anti-Trafficking in Persons Unit (ATIPU) said as a result of this growing phenomenon, combatting human trafficking requires a multi-disciplinary and cross sector approach, involving all the relevant stakeholders from government and civil society.
Inspector Simmons was speaking at the conference room of the Ministry of Foreign Affairs during the opening ceremony of a two-day basic skills training course, which is being held in collaboration with the Embassy of the United States to Barbados and the Eastern Caribbean and the Warnath Group.
The course, "Training in Human Trafficking: A victim-centred approach to combatting the phenomenon," is aimed at empowering law enforcement officers, prosecutors, financial investigators, labour inspectors, immigration officers, custom officers, prison officers and non-governmental organizations (NGOs) like the Red Cross, SVG Human Rights Association, Soroptimist International, National Council of Women, Marion House and the Christian Council.
"One of the pillars on which this basic course rests is cooperation. The transnational nature of the crime of human trafficking calls for total partnership and cooperation among stakeholders, if there is to be any reduction or cessation to this evil being committed against humanity," Inspector Simmons told the gathering.
Participants are currently receiving training in, among other things, interviewing victims of human trafficking, international law and local law on human trafficking and identifying victims of trafficking.
"It was not by coincidence that the national task force against human trafficking in St Vincent and the Grenadines joined forces with the US Embassy in Barbados and the Warnath Group to organize a training course for local stakeholders," said ATIPU's head man, who noted that every hour, 120 persons become victims of human trafficking and every 24 hours, 2,880 persons suffer the same fate.
Commissioner of Police (COP) Colin John, commenting at the opening of the workshop, said the training is appropriate and timely.
"The theme fits snuggly into goal 16 of the United Nation's Sustainable Development Goals, peace, justice and strong institutions. The aim is to reduce violent crimes, reduce sex trafficking, forced labour and child abuse and we intend the workshop to equip persons with the necessary tools so that we are able to combat scourges of human trafficking," stated the COP.
Commissioner John described the local ATIPU as a very efficient and proactive organization, as they managed to help improve SVG's human trafficking status, so that SVG is now listed as a country that is making significant efforts to becoming fully compliant with international standards as it relates to human trafficking.
The COP noted that locally, they arrested one person and disseminated information regionally and internationally that assisted in the arrest and apprehension of persons involved in human trafficking.
He stressed that this is important, as human trafficking is a multibillion dollar industry, as according to statistics obtained from the International Labour Organization (ILO), in excess of $150 billion in profit was made from human trafficking in 2014, while in 2012, an estimated 21 million victims were trapped in modern day slavery.
"This is why we saw it fit to arrange training. Human trafficking is a transnational crime, hence the need for a transnational approach and a transnational solution", said the Commissioner, who encouraged attendees to participate and soak up information that can make SVG and the region a better place.
The lead facilitators involved in the training are Albert Moskowitz and Karen Rigby of the Warnath Group.
The Warnath Group is a global advisory firm that offers a suite of specialist services, centering on training and advisory services on human trafficking, international women's economic empowerment and emerging human rights issues.
Addressing the gathering at the opening ceremony, Rigby also spoke of the importance of the training as human trafficking is an insidious and vexing crime that is both transnational and domestic and is taking root in our individual countries and the region.
"It is an irritant that will not easily go away. A concerted effort must therefore be made to make training and educational programmes available to all of the stakeholders and actors in the public and private sectors, NGOs and faith-based organizations, as well as the public at large, in order to raise awareness of existence of the crime and the importance of taking the steps necessary to assist in eradicating it to the greatest extent possible."
She said that the training is designed to help ensure those who implement the Government's policies on a day-to-day basis in the performance of their duties and in a voluntary capacity are able to execute appropriate and effective solutions when confronted with trafficking in persons situations.
"There can never be enough training, as the crime is a stealthy and dynamic one and there can always be a different and unexpected twist when it presents itself," said Rigby.
The opening ceremony was attended by, among others, Permanent Secretary in the Ministry of National Security Godfred Pompey, Director of Public Prosecutions (DPP) Colin Williams, Deputy COP Frankie Joseph and Coast Guard Commander Brenton Cain.
The DPP delivered the keynote address.