Posted on
Little substance in 2018 Budget presentation – Dr Friday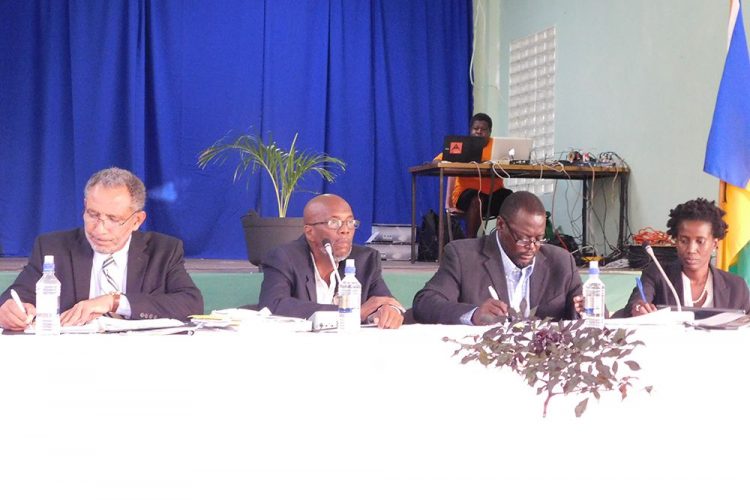 Part one of an alternative budget debate, dubbed "The People's Budget," was held yesterday by the New Democratic Party (NDP) at their headquarters at Richmond Hill.
Opposition Leader Dr Godwin Friday told SEARCHLIGHT that having the event gives the NDP an opportunity to let persons know what they think of the 2018 Budget, which was presented on February 5 by Minister of Finance Camillo Gonsalves.
There was no debate on the Budget, because after the Opposition members of Parliament failed to show up to the House of Assembly on February 6, Leader of the House, Prime Minister Dr Ralph Gonsalves asked the Finance Minister to wrap up the debate, without presentations from the other members of Government.
Yesterday, during his presentation, Friday described the first Budget presentation of Camillo Gonsalves as having little substance.
Friday touched on several topics, including the state of the economy, with reference to the December 2017 IMF report. He also said that in the Budget address, no mention was made on how cruise ship passengers were going to be encouraged to spend money in the country or how local farmers will benefit from medicinal marijuana.
"I want to know what you can do for me to make farmers benefit from this….We want to see Argyle succeed and we in the New Democratic Party, we will work and do all that we can to ensure that that happens….
"You cannot run a tourist industry on one or two flights a week for a couple of months of the year. And more importantly, those flights tend to bring Vincentians home, which is a small base for what it's worth. In order to do that you have to bring in visitors," Friday said.
He, however, said that the only thing with which he agreed with the Minister of Finance during his Budget address was that St Vincent and the Grenadines was the most beautiful, diverse tourist destination in the region.
Other members who spoke yesterday were parliamentary representative for East Kingstown Arnhim Eustace, parliamentary representative for the Southern Grenadines Terrance Ollivierre and senator Marcia 'Zita' Barnwell.
Part Two of "The People's Budget" will be debated this afternoon, from 5 p.m. to 10 p.m. at the NDP Headquarters.(CB)