Posted on
SVG being watched by UN for high rate of sex offences – Eustace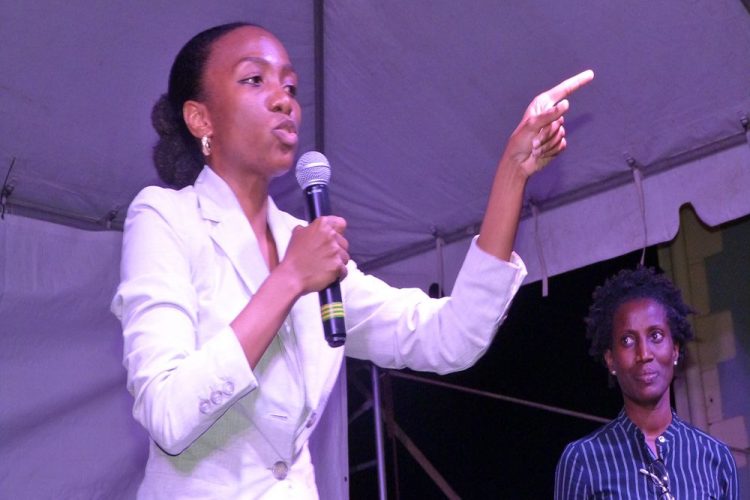 Female representatives of the New Democratic Party (NDP) have renounced a system which they say has normalized the oppression of women.
Senator Zita Barnwell and Maia Eustace, daughter of former leader of the NDP Arhnim Eustace, in a joint presentation, criticized the Minister of Finance, Camillo Gonsalves, for his silence on allegations concerning him and model Yugge Farrell.
In a release issued on January 15, the NDP had called for the Minister to explain himself on "allegations of very perverse sexual conduct" with the young woman, that had come to their, and national, attention through the media, or to resign. The Minister has chosen to maintain silence on the matter to date.
"St Vincent has very clearly been described as having a rape culture," Eustace noted. She described this as being "a society in which rape and other sexual offences against women and girls, as well as domestic violence, and forms of oppression and domination of women are just normalized, as if it is everyday or okay."
Eustace stated that St Vincent and the Grenadines (SVG) is being watched by the United Nations because of the high rate of rape and sexual offences of women and children.
"So, imagine how much worse it gets when a senior minister, one who owns, arguably the most important portfolio, finance, refuses to respond to an allegation of sexual exploitation. What that says – is that it's not a big deal. That is a normalizing effect," she stated.
"They say that we're politicizing this issue, but any political party that turns a blind eye to what is happening to women in St Vincent and the Grenadines is irresponsible and complicit. So we have a duty to speak, just as Camillo Gonsalves has a duty to respond," she said towards the end of her speech, as she shouted the last words to the crowd.
Also questioning the time-frame in which there had been no response, in contrast to the other countries like St Lucia, wherein there was a 24-hour response, she asked, "In every instance, within 24 hours there was a response. Why none for women in SVG? Why none for Yugge Farrell? Why none for Vincentians?"
Barnwell, in answering her, told the crowd, "because silence is used as an instrument of oppression." She stated that the Unity Labour Party (ULP) uses their radio station Star FM as an instrument of silence.
"When women or issues of domestic violence arise, issues of physical assault or sexual assault arise, and they identify these women as someone who doesn't sit with the privileged in their circle, they use this radio station as an instrument of silence, by using it to trample on, denigrate and demean all women," she claimed.
She added that this was not the only forum they did this in, but that this also happened at their press conferences.
"We need to stand firm. We need to say we cannot be silent," the Senator urged.
"Women raise your fists! Let your voice be heard!… Men who are incensed by this, raise your fists too!", Eustace said, inciting the crowd to a chant before leaving the stage.(KR)