Posted on
RSVGPF Band, Embassy of ROC (Taiwan) sign MOU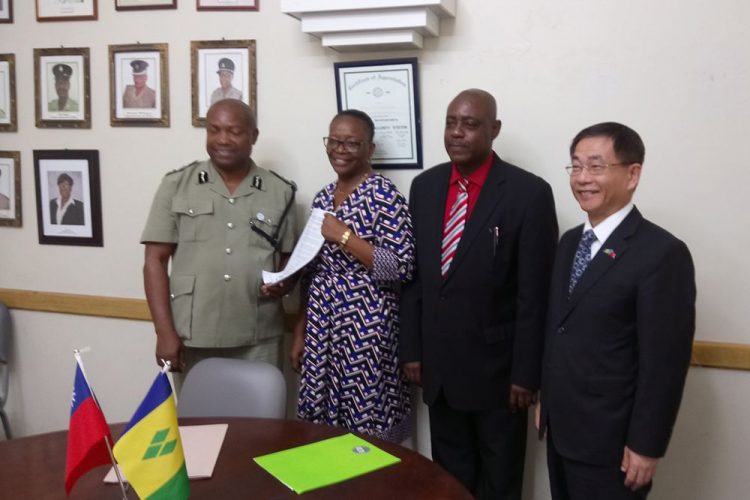 The Ministry of National Mobilization, the Royal St Vincent and the Grenadines Police Force (RSVGPF) Band, along with the Embassy of the Republic of China (Taiwan), held a signing ceremony on Monday, January 29, 2018, at the Police conference room.
The signing of the Memorandum of Understanding (MOU) between the Ministries of National Mobilization and National Security was for youth empowerment training and music through the RSVGPF Band and to promote youth and national development.
Newly appointed Commissioner of Police Colin John gave a brief history of the band, which was founded in 1953, and how it has changed over the years. He said that the 12 persons who will join the band through the YES programme will have the opportunity to be part of the RSVG Police Force once they have performed well during the programme.
Baushuan Ger, the Ambassador of the Republic of China (Taiwan), said that since the start of the YES programme in 2001, the Government of Taiwan has provided EC$ 2.1 million to the programme and 8,500 youths have participated. Many have gone on to become teachers, businessmen, technicians, among other professions.
Minister of National Mobilization Frederick Stephenson said that he hopes that the signing of the MOU will help to prevent some young men from falling into gangs and give them the opportunity to have mainstream work, along with training in music. He said throughout the life of the YES programme, youths have gone on to earn college degrees, Masters' and PhDs and have gained permanent employment within various ministries of the Government.
The 12 persons set to join the RSVGPF Band through the YES programme commenced their tour of duty on February 1, 2018.