Posted on
Rotary Club honours Governor General for humanitarian service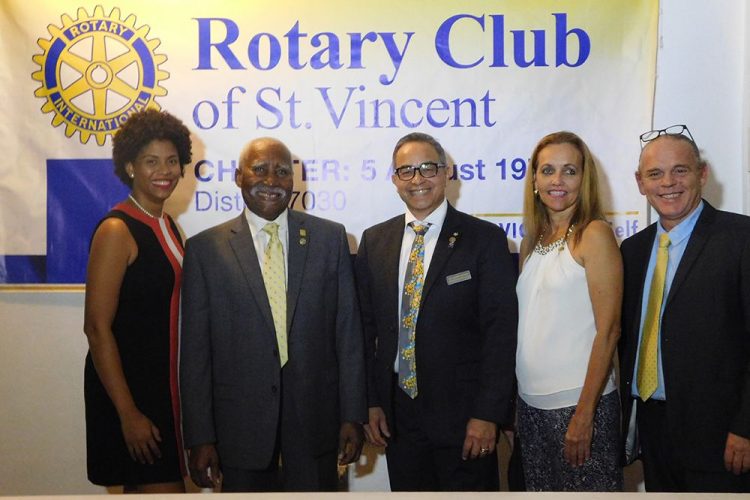 Governor General Sir Frederick Ballantyne has received the Rotary Club's Paul Harris Fellow award for outstanding services rendered to the organization.
On Wednesday evening at the Grenadine House, Rotary's assistant district governor, Dr Francois Truchot, said the club wanted to show Ballantyne special appreciation for assisting with their ventures over the years.
Visiting Rotary district governor Waddy Sowma said that during a previous visit to the local club he realized how much Ballantyne, who is also an honorary Rotarian, was collaborating on different Rotary events.
"As an honorary Rotarian, you, of course, must commit, but you went beyond that," the district governor said.
He continued that the Paul Harris Fellow award is given to an individual whose life demonstrates the objectives of the organization.
After receiving his award, the Governor General explained that his decision to help persons began when he was a third year medical student and the professor of paediatrics asked him to assist during the summer at a migrant camp in upstate New York.
"…The kids had never been vaccinated, they had never seen a doctor, so we spent the whole time taking care of these kids there and their families, and that was the experience that changed my life. I decided there and then that my future would be in taking care of people and children who are disadvantaged. I've been doing that for all my life up to today," Ballantyne said.
He took the opportunity to ask the organization to start mentoring young people and influencing their lives, because of its cost effectiveness and since they were all experts in their respective fields.
President of the Rotary Club St Vincent Laela Constantine and president of the Rotary Club South Kim Haydock both congratulated Ballantyne. Constantine expressed special thanks to Sir Frederick for his contribution to the children's Christmas party.
The award was a joint venture between Rotary Club of St Vincent and the Rotary Club South.(CB)