Posted on
Police NCOs complete week of development training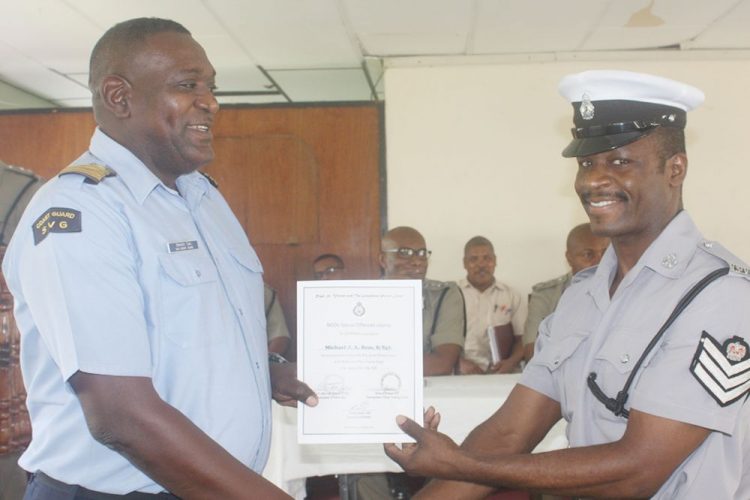 Twenty-five non-commissioned Officers (NCO) of the Royal St Vincent and the Grenadines Police Force completed a one-week NCO Development course on January 19.
The course, which ran from January 15 to 19, was held at the Old Montrose Police Training School. The course catered to NCOs from the rank of Corporal (Cpl) to Station Sergeants (S/Sgt) from various stations and departments of the Royal St Vincent and the Grenadines Police Force.
The officers were trained in the various areas that would allow them to function as leaders in the constabulary. The closing ceremony was held under the theme "Equipping officers to better serve the public and the organization." In attendance were the Commissioner of Police (Acting), Collin John, the Deputy Commissioner of Police (Acting), Frankie Joseph and other senior officers of the ranks.
Commissioner John, delivering the keynote address, drew the attention of the course participants to the importance of effective leadership and reminded each NCO of the saying "To whom much is given much is expected."
He implored them to apply all the training they had received to their work at their various stations and departments and to teach their junior officers what they had learnt.
Course coordinator Assistant Superintendent of Police (ASP) Trevor Bailey, in his remarks, gave an overview of the course, which focused on areas such as: Points to Prove Offences, Station Management and Sexual Offences. He said the students challenged the lecturers and he expected a positive outcome from the training, especially in the performance and quality of service that the NCOs provide and a remarkable change in the quality of service from the officers they would lead.
Training is at the top of the agenda for the hierarchy of the RSVPF, and the organization continues to provide the relevant training to senior and junior members of constabulary, a release from the Police Public Relations office said.