Posted on
Lloyd Lewis – Distinguished barber, community man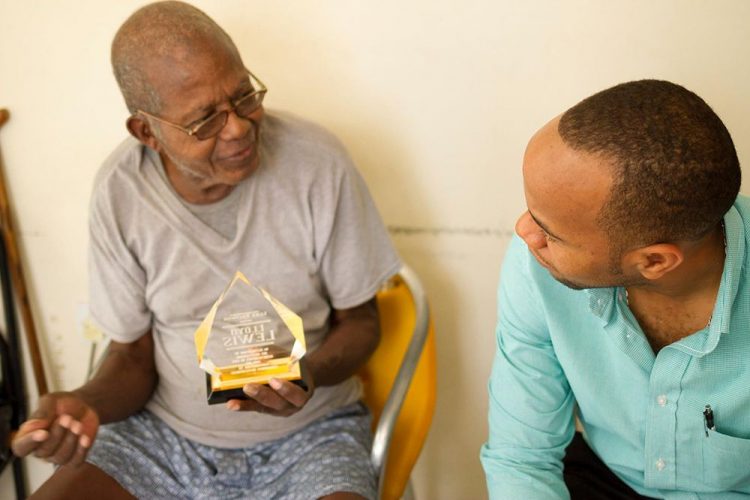 by RT Luke V Browne
The news broke last Monday that Lloyd Lewis had quietly left the stage of life. He died peacefully in his bed, just shy of his 82nd birthday (which he would have celebrated on February 24th this year) after living a most distinguished life. There can be no denying that this man achieved distinction in his profession as a barber and in relation to his contribution to the development of Sion Hill. Lloyd was no ordinary person or character by any standard. He was born in Fancy, but moved and established his permanent residence in Sion Hill when he was a young man. He used this location as a base, launch pad and platform for his career.
Lloyd demonstrated that a barber must not just be skilled in cutting hair. He was always up-to-date on contemporary affairs and he was never short of an interesting story or colourful anecdote to share with his clients while they sat in his chair. He was a master in the art of entertaining the barbershop crowd. He trimmed the hair of many well-known persons in our society, including prime ministers, ministers, members of Parliament (from both sides) and persons in the top echelons of the corporate world. But he never lost the common touch. In fact, he was supremely down to earth and firmly grounded. Lloyd's business enterprise doubled as a veritable apprentice shop. He trained scores of young men in the profession and thereby empowered them with the skills and means to earn a lifelong living.
On a personal note, he trimmed three generations of men in my family (including me), and after his retirement, I was essentially passed into the hands of a gentleman of great competence, who was trained by Lloyd, and it is there that I remain up to this day.
Lloyd's other passion was community development. He helped to build up Sion Hill and in doing so, he attained for himself national standing. Because of the work of Lloyd and his colleagues, Sion Hill developed the reputation of being a "sporting nation" or "sporting powerhouse." Mr Lewis was instrumental in the original manual development of the Sion Hill Playing Field. He almost carved that field out by hand in an era that predated modern machinery. That was not the extent of his contribution to sports. He managed Sion Hill cricket teams in an era of dominance and employed innovative, audacious and ultimately successful approaches to fund-raising for sporting and cultural activities.
Mr Lewis nurtured, trained and helped to harness the cricketing talent of Winston Davis, who went on to play for the West Indies team and who at one time held the record for the most wickets taken in a One-Day International, which, if my memory serves me right, was 7 for 51. Winston Davis, in his heyday, was a fearsome fast bowler, and apart from playing for the West Indies, he featured in the English county cricket circuit and elsewhere.
Lloyd, in general, helped with the economic upliftment of so many Vincentians, including in several cases by assisting with attempts to seek greener pastures overseas.
I am happy that I did not wait until Lloyd died to sing his praises. In June 2016, while he was yet alive and in high spirits, I presented him with an award for "outstanding achievements in life and his contribution to community development." The exchanges we had on that occasion constitute memories that would last a lifetime. The best we could do to honour Lloyd is to live according to his noble precepts – to apply the lessons we learnt from him to our own lives. Then, we might be able to follow in his footsteps to a destination of excellence. We must participate in building strong communities and we must live good with each other despite our differences.
One little known fact about Lloyd is that he was a born again Christian, having come to Christ under the preaching of Mac Velox. One of Lloyd's favourite verses was 1 Corinthians 2:14 – "But the natural man receiveth not the things of the Spirit of God: for they are foolishness unto him: neither can he know them, because they are spiritually discerned." Lloyd was obviously on a higher spiritual level and maybe that was where he found his motivation.
Rest in Peace, Lloyd, and rest knowing that you have left a strong and towering legacy. (lukebrowne@yahoo.com)