Posted on
Invest SVG launches 'SVG Set to Take Off' video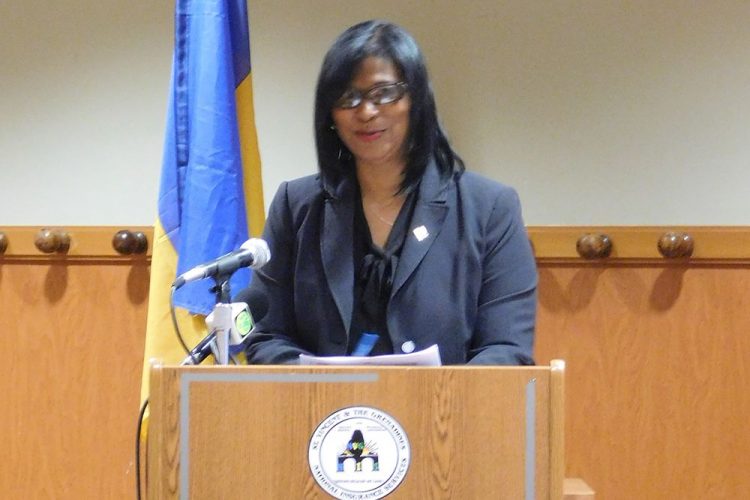 St Vincent and the Grenadines (SVG) is better prepared to attract foreign investors, after being featured in the Financial Times FDI Intelligence 'On Location' programme.
Last Friday, Invest SVG launched the video called 'St Vincent and the Grenadines Set to Take Off', at the NIS conference room. The video highlighted which industries were ripe for investment, plans to expand the economy and how the airport can be leveraged to open up SVG to international markets.
Executive director Annette Mark said she had been approached to have the video done and she was pleased with the outcome from collaborating with the other entities. She asked that Vincentians help to share the video as much as possible on social media and explained that FDI Intelligence, an arm of the Financial Times, was promoting the video.
"Financial Times is also doing their part in promoting us, as there is a print magazine, video was aired on English Television as in BBC. Also there is a link for the video on their website for a reach in the Asian and European markets and it was posted on Youtube, and received 3,500 hits in the first hour of being posted," the director said.
Mark continued that a lot is expected of Invest SVG in 2018.
"There are a lot of expectations of Invest SVG in promoting our jurisdiction in this year and beyond and generally speaking, that is, find investors; assist with creation of jobs; assist in social development; empower business persons specifically small to medium businesses," the executive director said.
Mark continued that the focus will be on short to medium-term goals, which will create jobs quickly.
"To this end, we must think about our short to medium-term goals, in other words what will create jobs quickly and sustainably and contribute to the country's overall development. Some of the areas we are looking at are light manufacturing and export, niche tourism (yachting) and … business processing outsourcing," Mark said.
She elaborated that in order to make SVG a world class jurisdiction for business, a new mindset and superstructure will need to be developed, which recognizes opportunities and capitalizes on them, without frustrating the process of doing business.
FDI intelligence is an established world publication from the Financial Times, which publishes a bimonthly magazine on foreign direct investment and up to date reviews on global investment activity. St Vincent is the third Caribbean country featured in the On Location visual publication.
Invest SVG expressed appreciation to Mustique Company Ltd, the Argyle International Airport, the St Vincent and the Grenadines Tourism Authority, the Ministry of Agriculture, Loyal Bank, Digicel, the Chamber of Industry and Commerce, BOSVG and the National Properties Ltd.