Posted on
Public servants pay is 48% of revenue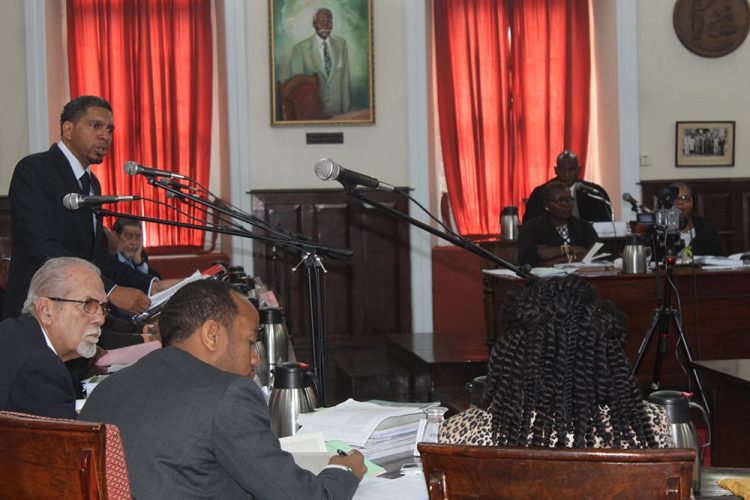 Forty-eight cents of every revenue dollar collected in 2018 will be spent on the compensation of public servants.
"This is significant. As a government, we have consistently implemented measures to improve the material condition of all workers, including public servants," said Minister of Finance, Economic Planning, Sustainable Development and Information Technology Camillo Gonsalves in Parliament on Monday, while delivering the 2018 estimates.
Gonsalves, who took over the Finance portfolio from his father Prime Minister Dr Ralph Gonsalves late last year, said that some 76.3 per cent of the recurrent budget is allocated to general public services, including education, social protection and economic affairs.
The Finance Minister said that salaries will take $245 million, allowances $23.5 million, wages $21.5 million and employer's National Insurance Services (NIS) contribution $12. 5 million. Pensions will take up $60 million.  
With this in mind, the finance minister has asked public servants to up their game.
"While we are proud of our excellent performance with the public servants and within ranks of the public service, we all have to consider what we can do better and what is our own responsibility to raise the level of productivity within the public service to provide real value to the citizens who pay you that 48 cents in every dollar," stated Gonsalves.
He said that while public servants are generally excellent performers, there is still much room for improvement.
"It is your individual and collective responsibility to raise the level of productivity within the public service to provide value to the citizens for the money they pay you," added the finance minister.
Revealing some of the way money is being spent on public servants, Gonsalves revealed that budgetary provisions have been made to pay a total of 103 graduate teachers, who have been appointed across the primary and secondary levels, while all temporary clerks, some 64, have been confirmed as junior clerks and their salaries allocated to the various ministries and departments where they have been employed over the years.
Also, 98 new positions have been created across the public service to enhance service delivery. Forty-six additional posts have been allocated under the Ministry of Security, with 40 going to the police force and five to the Immigration Department.
The Ministry of Health, Wellness and the Environment has been allocated 35 posts to strengthen the hospital, community health and mental health services, while 12 posts have been created in the Ministry of Finance, mainly to enhance the capacity of the Customs and Excise Department to add another shift to the Argyle International Airport (AIA) to facilitate the processing of international passengers.
"The 2018 budget for compensation of employees is 1.6 per cent higher than the estimated wage bill in 2017. There are two principal factors responsible for the movement of this item in this fiscal year. These are the cost associated with the new positions mentioned above and the automatic salary increments paid each year to public servants," said Gonsalves.
Compensation of employees and pensions account for 56.4 per cent or $8.8 million of the increase in 2018.
The new finance minister said that the Estimates of Revenue and Expenditure for the year 2018 represent a 1.7 per cent increase over the 2017 numbers and stands at $993,535,449, a number which is $6.5 million short of one billion dollars.
Capital expenditure (money spent on acquiring or maintaining fixed assets, such as land, buildings, and equipment) stands at $216,655,710, while recurrent expenditure (payments other than for capital assets, including on goods and services, such as wages and salaries, employer contributions, interest payments, subsidies and transfers) is $776,879,739.
Gonsalves said it is expected that the 2018 budget will be funded by current revenue of $621,658,138 and capital receipts totalling $371,877,312.
During the presentation of Estimates, Minister Gonsalves said that the current expenditure (exclusive of amortization and sinking fund contributions) amounts to $617,421,847.
"In respect of current revenue, a total $621,658,138 is estimated to be collected by the various revenue agencies of government. As a consequence, there is modest current account surplus of $4.2 million in these estimates. When last was there a surplus?" commented Gonsalves.
Gonsalves also noted on Monday that tax revenue is expected to grow by 5.2 per cent, with taxes on income and profits to increase by $10.8 million or 7.4 per cent, taxes on property projected to rise by 16.4 per cent or $7.1 million, taxes on goods and services expected to go up by $4.8 million or 2.9 per cent and taxes on international trade and transactions to go up by 1.5 per cent or $2.2 million.
Non-tax revenue collection is budgeted at $89.6 million for 2018, 5.2 per cent more than 2017.
A recent International Monetary Fund (IMF) report said that in an effort to improve this country's financial state, the Government should contain the wage bill and pension outlays to civil servants.
"St Vincent and the Grenadines has the highest tax revenue and wage bill to GDP of the ECCU. While this reflects St Vincent's higher cost of delivering public services in a multi-island state, it also suggests that containing the wage bill is essential to the fiscal consolidation strategy," said the report. (LC)