Posted on
Two long-standing Digicel customers win big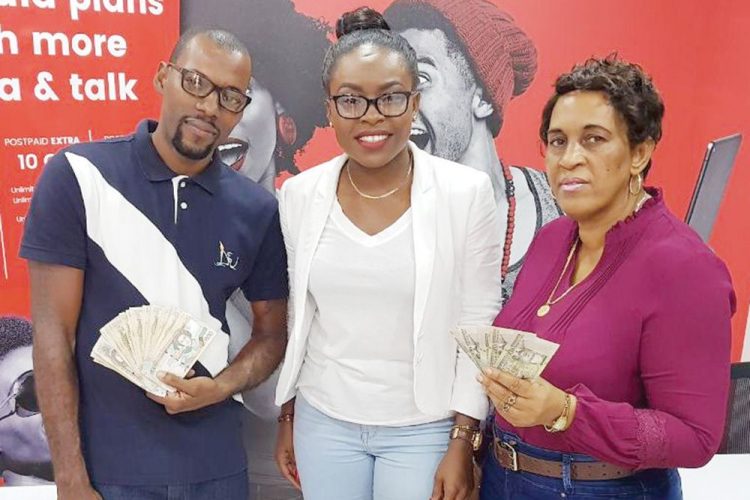 Generally viewed as the hardest month of the year, January is now a lot easier for two very lucky Digicel customers, who on Friday, January 19, walked away with a total of $6,000 cash.
Vibert Bonadie of Richmond Hill and Rosemond Daniel of Arnos Vale were all smiles on January 19, when they were presented with thousands in cash for participating in Digicel's 2017 Scratch & Win Christmas promotion. Bonadie qualified to win after activating a 30-day Quick Pick bundle, while Daniel topped up $15 and both received a scratch card to participate in the promotion. After almost 15 years as Digicel customers, the very elated winners expressed much gratitude to Digicel, explaining that the cash couldn't have come at a better time.
Digicel's marketing executive Jamisha Wright, in presenting the winners with their prizes, said it is their intention to reward as many customers as possible through all promotions, adding that the Christmas campaign did just that and saw thousands of Digicel customers winning groceries, cash, wines, phones, Digicel products and services and more.
Wright noted that the decision was taken to reward the grand prize winners of the Christmas promotion in January to help the customers get through the financial challenges during the month. The marketing executive further explained that Digicel is also assisting its customers during the month of January with its Ease the Squeeze promotion – a campaign designed to allow customers to enjoy the products and services they usually purchase at a reduced price. Wright said prepaid customers can save up to $15 when they activate a 7 or 30 day Quick Pick bundle via the My Digicel app, while anyone who joins the Digicel postpaid family during the month of January will receive two months' subscription absolutely free.