Posted on
Brewery employees graduate from mechanical maintenance course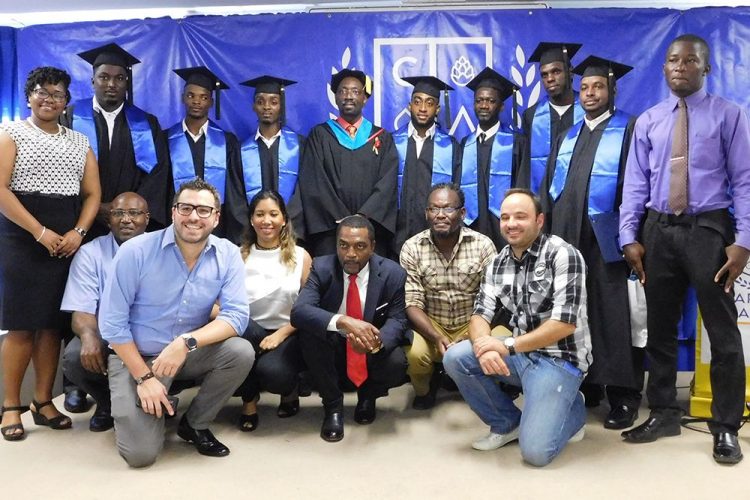 Seven employees of Caribe Academy, the internal training academy of St Vincent Brewery Ltd, are now better skilled to maintain the mechanical equipment at the brewery.
Last Monday at Frenches House, the first batch of students graduated with a 70 per cent pass rate in Module 1 of the 'Mechanical Maintenance for Brewing Industry' course.
Representative for the St Vincent Brewery Ltd Cheraz Sutherland explained that in conjunction with the launch of their in-house career path tool, they wanted to put in place substantial technical training for their staff. This, she said, required them to partner with the St Vincent and the Grenadines Community College (SVGCC).
Director of the SVGCC Nigel Scott said the SVGCC takes very seriously, its mandate to be a training institution of regional worth and they have embraced the opportunity to partner with the St Vincent Brewery to provide training for its employees.
Dean of the Division of Technical Vocational Education of the SVGCC Osborne Bowens urged the graduands to pursue the higher level of the programme, so as to not lose their skill.
Featured speaker Dwight Lewis, the director of the national qualifications department in the Ministry of Education, commended the brewery for the initiative and challenged them to establish a training facility.
"…Why I'm suggesting this is the lab is there, all the equipment is there and the brewery can more than facilitate this process…," Lewis said.
He explained that it was critical for other businesses to align with training facilities to ensure their employees have the kind of performances necessary for production.
Valedictorian Kishron Matthews said the programme was challenging, especially when he had to attend classes on Fridays at 8 a.m., after working the 11 p.m. to 7 a.m. shift on Thursday nights.
He explained that it was very competitive, since he had outshone his colleagues, John and Romano, by mere points.
He also said the pressure for him to do well was high, since he was the only student who worked in the engineering department.
Matthews also achieved awards for Best Overall Performer; Most Outstanding Student (Practical); and Best Final Project, along with Jason Browne.
John Roberts was the most outstanding student in Depth and Breadth of Learning.
Regional supply manager Albert Porter revealed that the brewery expects to train 70 persons in the next two years in a variety of disciplines. Doing so, he said, will allow the St Vincent Brewery to double its operations.
The three-month course started on September 29, 2017 and was the first course offered here by the Caribe Academy. The brewery also plans in 2018 to teach electrical, automation, and module 2 of the mechanical engineering course in St Vincent and then begin offering the courses at their brewery in Barbados.(CB)