Posted on
Breadfruit, adding value to the nation for 225 years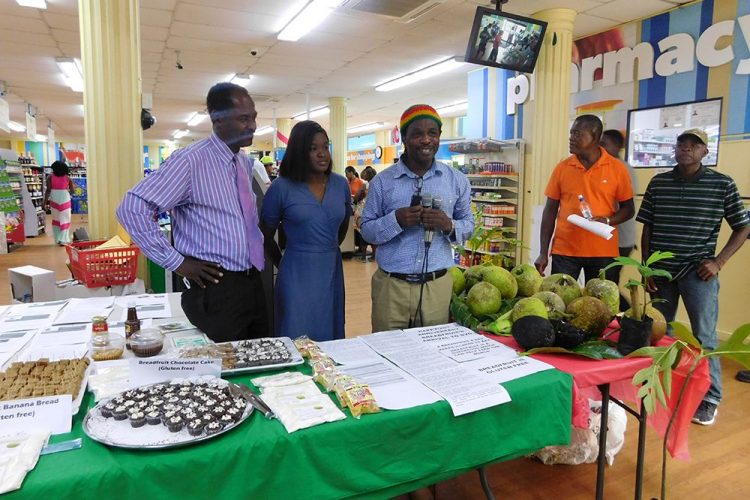 The Breadfruit, a component of this country's national dish, has been present in St Vincent and the Grenadines (SVG) since Captain William Bligh brought it to our shores in 1793.
In commemoration of the 225th anniversary since its introduction to SVG, on Tuesday, an exhibition was held at Massy Stores, Kingstown.
Michael Gloster, agricultural assistant and coordinator of the exhibition, explained that breadfruit has played a significant role in the development of the country and can be used to create many different products.
The national dish of SVG is fried jackfish and roasted breadfruit, and among the items on display were breadfruit cake, breadfruit banana bread, breadfruit flour and breadfruit chips, which Gloster said show ways of adding value to breadfruit.
"It can prolong the shelf life and then there are so many products that people can develop when you add value…," Gloster said.
Marketing officer at Massy Stores Petra Plato said she was happy to partner with the Ministry of Agriculture.
"Not a lot of persons know the many uses of breadfruit and this is something people can take part in and sample," Plato said.
Dr Jerrol Thompson, one of the coordinators of the exhibition, emphazised that breadfruit is now recognized as a superfood. He said there are 25 varieties of breadfruit in SVG, of which 'Coco Bread', 'Desert', and 'Yellow Bread' are some.
Thompson said breadfruit, because of it's potassium content, can help to lower blood pressure and because it has a low glycemic index, it is a great food for diabetics. "It also has insoluble fibre, which is absolutely wonderful for the maintenance of the bowels. But the antioxidants and flavanoids and the other ingredients in breadfruit truly makes breadfruit a superfood, and one of the great things is breadfruit is gluten free," Thompson added.
Gloster, whose prime responsibility in the Ministry of Agriculture is breadfruit production, said that the type of breadfruit tree grown here produces big fruit, which is best for adding value, since one gets greater yields. He recommended that breadfruit trees be pruned regularly to make harvesting easier and increase yield.
"Because most of our trees are old trees, so they have passed their reproductive life…not just cut the branches, we have to reduce the height…. Another problem with the height is that it predisposes the breadfruit to wind damage," Gloster said.
According to a 2009 Ministry of Agriculture survey, breadfruit are harvested 12 months of the year, with August being the most productive period and February being the least productive month.
Approximately five to six breadfruit are harvested by families for home consumption weekly, with 180 – 216 lbs of fruit (66 breadfruit) harvested from each home garden annually.
According to the Department of Food Production at the University of the West Indies, St Augustine, all parts of the tree can be used for medicinal uses: the bark treats headaches; the roots, when crushed, are used for dressing skin ailments or as a purgative agent; the leaves, when crushed, produce a sap, which is dripped into ears and eyes to treat ear infections and sore eyes.
Tea is also made from yellowing leaves to treat asthma, diabetes and high blood pressure. Latex or tree sap is massaged into the skin to treat broken bones, skin ailments, like rashes, and dermal fungal diseases. When swallowed, the latex treats stomach aches and diarrhoea.(CB)