Posted on
Bigger prizes to be won in Guinness Pool Competition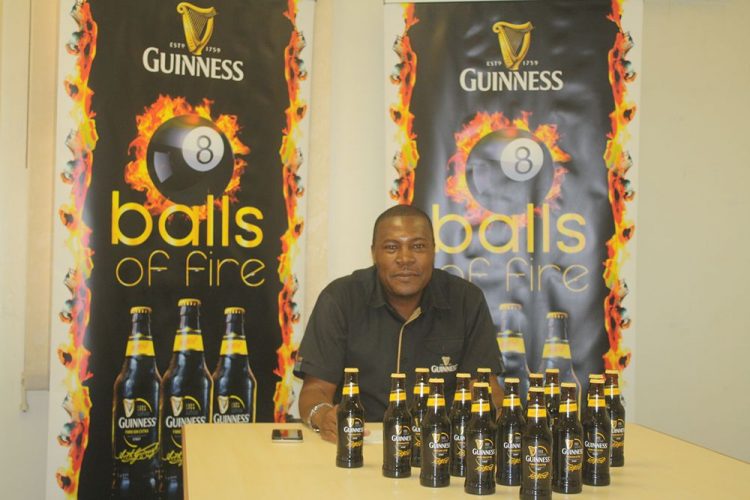 The St Vincent Brewery Limited has upped the prize money for its annual Guinness Pool Competition.
Dubbed, "Eight balls of Fire", the third annual competition shoots off tonight Friday, January 26, at the West Side Bar in Rose Place/Bottom Town.
Marketing coordinator at the St Vincent Brewery Limited Kelvin Franklyn, speaking at the Brewery in Campden Park during the launch of the competition on Tuesday, said that in an attempt to make the competition even bigger, they have increased the prize money.
For the past two years, the first-place winners in the eight preliminary rounds have been receiving EC$500 each, while the grand finale winner received EC$5,000.
However, this year, the preliminary winners will get EC$600, while the winner in the grand finale will receive EC$6,000.
"We decided to up the prize money; we wanted to motivate persons," said Franklyn.
The competition will see eight rounds of games with the last man standing earning his/her way into the grand finale, which is scheduled for Saturday, March 24, at a venue to be decided.
The venues this year are: Nani Bellingy's Bar in Pembroke (Saturday, February 3), Auntie Merlene's Bar in Mesopotamia (Friday, February 9), Tree House Bar in Arnos Vale (Saturday, February 17), Skyline Bar Bequia (Saturday, February 24). Drop Off in Sans Souci (Friday, March 2), Police Canteen in Kingstown (Friday, March 9) and Azard Bar in Troumaca (Saturday, March 17).
"This is another exciting series of Guinness Pool. Guinness Pool is a platform that we have been running for the last three years and come Friday (tonight), Guinness enthusiasts and lovers of Guinness Pool will again be exposed to eight weeks of Guinness Pool," said Franklyn.
He added that the venues will have numerous giveaways done by the "beautiful" Guinness girls and entertainment provided by local DJs.
Also, a coinciding supermarket promotion will see a lucky person winning a refrigerated Guinness cooler filled with Guinness. Persons can enter this promotion by buying a six-pack of Guinness at participating locations, placing their name and contact information on the receipt and dropping that receipt in the provided receptacle.
"We are ready; you know we are made of more and this year, of course, is going to be exciting rounds of Guinness Pool here in St Vincent and the Grenadines," said Franklyn.
The competition will be coordinated by Brewery's trade marketer Cleve "Skip" McKenzie and trade marketing coordinator Seon Ballah will supervise.
The team is hoping to have games start at 5 p.m. and persons must purchase a Guinness to register.
Rocky Punnett won the competition in 2016 and Alson Barker in 2015. Osmond "Ozzie" St Hillaire, last year's winner is hoping to do the double.