Posted on
Ace Hardware opens new tile showroom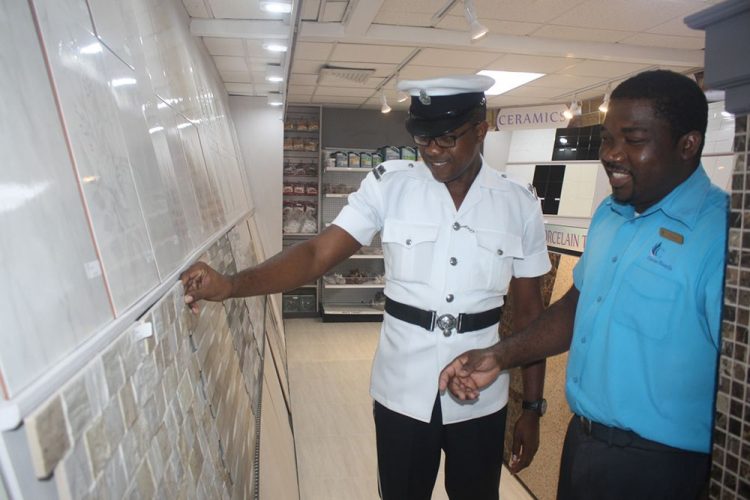 Persons in the market for tiles may now shop in improved ambiance at Ace Hardware on Bay Street.
On Monday, Ace opened their new tile section and Debbie Huggins, divisional manager of Ace, said that the new space fits snugly with their "You come first" campaign.
The new tile centre is located on the recently opened upper floor of Ace and consists of a tile display showroom, two consultation areas, a refreshment area and comfortable seating, along with the expertise of tile specialists Michelle Baptiste and Enis Quashie.
"We are very happy with the outcome and from all reviews, people seem to enjoy the showroom. The aim was to make it a more pleasant shopping experience to our customers," said Huggins, who is a trained interior designer.
"The area was designed with the customer in mind, as we are now able to showcase a lot more of the tiles we sell," said Huggins.
The wide array of tiles includes a diverse collection of floor and wall tiles, outdoor and indoor tiles, and granite and quartz slabs (a recent addition).
"We carry a number of décor tiles that will improve and enhance any floor or wall. We carry several mosaics, but this is still an area we want to improve on, we are always improving and bringing in new products," said Huggins, adding that their pricing is comparable and in many instances better than other sellers.
"We have been in the tile business for almost 30 years and we have operated in a number of locations. I am happy to say we have a home that is more permanent. We are not just selling tiles; we want to sell an experience," said Huggins.
Ace customer Atnel Ash said that he is an account holder at Coreas Hazells and the tile section is wonderful.
"The ambiance is great, when you enter here, you feel welcomed; they did a wonderful job. There is a wide range, a lot to offer and there is no need to go anywhere else. Everything at your finger tip," said Ash.
Tile expert Quashie has been in the tile business for three years and said on Tuesday that their porcelain and ceramic tiles in assorted sizes are the best priced on the market.
"We also have a lot of different varieties, the most," he added, also stating, "we have tiles that can give you a wooden look; porcelain tiles great for floors; plain tiles, mosaics, non-skid outside and inside tiles."